Home Again: Fellows Write from and about Home, Part 2
May 18, 2020
The second installment of a virtual conversation on home, work, and #wfh among fellows from the Katz Center's year on the Jewish Home.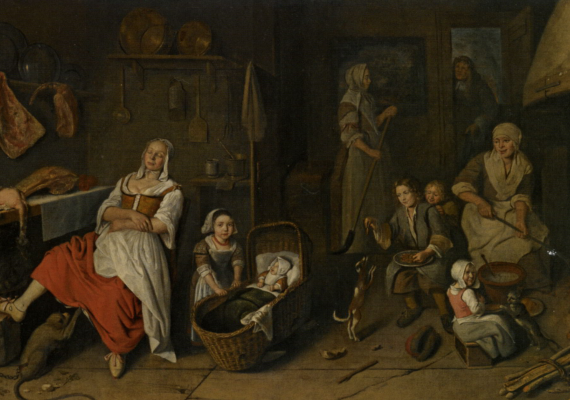 In an extraordinary confluence, global stay-at-home orders aligned with the Katz Center's fellowship theme this past year, focused on "the Jewish home." Back in March I (virtually) convened a few fellows, newly exiled from their residential experience, to share their thoughts about homes in light of quarantine and Covid-19.
Two months in, and as the U.S. heads toward some lifting of restrictions, I wanted to revisit the issues with new perspective. This time, the conversation turned spontaneously to issues of labor and gender, as this moment has dealt a body blow to women's productivity in academia as in other professional contexts.
Anne Albert: I hope everyone is safe and healthy. How are you all experiencing this time at home, how is it affecting your work?  
Federica Francesconi: For the first few weeks I was completely absorbed in the submission of my book manuscript and then on a safari to acquire images and the rights to reproduce them. Considering that almost all my illustrations come from Italian institutions located in cities that were at the center of the pandemic contagion, I thought that this would be a desperate operation. I began by touching base with museum directors and archivists to make sure they and their loved ones were alive. Thankfully all were, and are, well. In the end, almost everyone was working from home and this communication from my home to theirs allowed unexpected solidarity.
Marjorie Lehmann: I miss my days at the Katz Center and my apartment in Philly, where the importance of leaving my home in New York to be able to write about home was fully evident. I made so much progress while I was there and now all is slowed. I try to do some work every day, even if just for a few hours between all of the home chores. I know that I need to keep going because, as you all know, sabbaticals end and teaching begins no matter what.
FF: I have been assaulted by anguish about my parents, family members, and friends. I just learned that a colleague who participated in a Zoom seminar I co-organized in March passed soon afterward because of Covid-19. Contributing as much as I can to charities and hospitals lessens my sense of impotence and anguish, but not enough. Nonetheless I spent the last weeks also working crazily on so many fronts and at times even appreciating the fact that I am stuck in a nice apartment in Philadelphia. Yet there is nothing good in being at home and doing research—because this is not a sabbatical experience but a disaster for humanity.
Viola Rautenberg: With a small kid, not much #wfh is possible. The hashtag should just be #stayathome. I used to work from home, all in pajamas, while I was a PhD student and I absolutely loved it. But that was before becoming a mom. There are certain things that can be done while simultaneously caring for a child—more technical things, writing emails, or answering this question for example. Working on my book is out of the question.
Pratima Gopalakrishna: As a scholar of labor, I have been alarmed by how many of our attempts to cling to normalcy in the midst of crisis have involved work. So-called "knowledge workers" like us were among the first to be thrust into the "work from home" life, and we will be among the last to return. For the last few weeks, we have all scrambled to establish routine under these drastically altered social circumstances. For the few minutes a day that I can focus at all, I enjoy the feeling of cutting out the static as I translate a difficult text or write a difficult paragraph. When I speak to friends caring full-time for children and others, I realize what a luxury even this is.
VR: It is wonderful that you have this opportunity. I have to say, even though I don't have any research to make me forget what is going on, playing with my daughter has a similar effect. As she cannot see her friends, I am going full into her fantasies, acting out her complex stories involving fairies and unicorns and whatnot. While not much productivity will come out research wise, the two of us are having a great time (most of the time), a welcome change since I did not see her nearly enough during the first semester.
PG: Maybe we cling to work because we are all addicted to feeling productive, but we also do it because, as Marjorie said, when all this is done, we know that society will return wrenchingly, destructively, to "normal." As academics, we know our work is not urgent by crisis-time definitions, but we also understand that if we don't keep working from home now, our livelihoods may be in trouble when we finally can leave home. Early career and contingent scholars, who are already accustomed to the disastrous academic job market, are the first casualties as universities have begun making cuts.
AA: I want to note that all of us in this forum are women. At first, I thought this was mere happenstance as I had put out an open call for participants. Now I wonder if there is a particular hunger among women to talk about the changes we have seen in our domestic conditions. We have a heightened awareness of labor and gender in these hothouse homes we are making, and we are worried about detrimental repercussions for years to come.
VR: In these times, care work becomes very visible. For single parents, this is a complete disaster. For couples, the choices that are made regarding who does the main part of the care work depend on who makes more money (as we know, statistically often the male partners), who has a job (and not like us early career scholars and contingent faculty), who has multiple hard deadlines per week in order to keep a job (not like: finishing the book sometime this summer…). For many couples, these are pragmatic and absolutely reasonable decisions: you take the kids, I continue working. But the underlying conditions are gendered. 
ML: What occurred to me recently, as I was writing about the rabbinic discussion of Yom Kippur in the 8th chapter of Yoma, is that the absence of any domestic requirements associated with this holiday enables women to actually take part in it. Women are required to observe Yom Kippur and when the rabbis speak about its observance, women are included. Writing about Yom Kippur on Passover in the middle of a pandemic, with grown-up kids at home and a husband working shifts in the ICU, brought resentment to the fore.
Why is the fact that I made 40 dinners in a row over the last few weeks not an accomplishment—a quantifiable labor that contributes to the household just like the money I earn? I just keep thinking about my book, my teaching, my future as an academic. But isn't there something of success in the relationships we foster, the health (even mental health) we keep up? To make home feel like home takes work and we should value what it takes to create it, especially these days when everything is happening at home.
AA: You are all pointing to issues of compensation, but also to a deeper valuation of, and balance between, different kinds of work.
PG: More people are realizing that the "essential" work all along was the work we systematically undervalued as a society. But what good does it do to be deemed "essential" if you are also deemed expendable? And what happens next? As Arundhati Roy put it in her recent essay, the pandemic is a portal, and we can decide how we walk through it.
AA: Over the course of this year, thanks to you all, I've become sensitized to home-language and I'm hearing all of your comments very much through that lens. We are living through a moment at which domestic circumstances are suddenly radically different. But, of course, if we have learned anything at the Katz Center this year it's that homes have been construed and constructed so differently over the ages. What insights can be gleaned from times and texts alien to our own?
VR: In my work on the homes of refugees adapting to new conditions in Mandatory Palestine, I see homes as places of conflict, not necessarily as good, stable, positive places. During this pandemic, violence against women living with abusive partners has spiked all over the world. Staying at home can be dangerous, even deadly.
AA: Viola, you're offering an important corrective to a romanticized notion of home. Some of us may be disappointed that our nests are not as idyllic as we once imagined. But as historians, we can remember that the domestic idyll—especially the particular version of it in which parents parent without help and grandparents live alone—was indeed part of the modern imaginary.
VR: I do think about the ways future historians will explore this period. It gives me a certain sense of calm because it shows that this will pass. Also, probably because I have done many oral history interviews, I am attuned to looking for patterns of coping in everyday life. I am imagining the questions future researchers will ask me about my own coping during these days.
FF: I just mentioned to some other fellows how new Jewish rituals, texts, and prayers contoured the Jewish home in the early modern age. Perhaps this past Passover recentered Judaism within the home, preventing the practice that had become widespread (particularly among American Jews) to leave the family house and to spend Passover in a kosher hotel. This Passover kept families apart but the use of Zoom and the consensus in using it among rabbis of different denominations allowed for seders that brought together friends and families from different corners of the world in their own homes. Judaism is back inside the Jewish home, now in a global dimension. 
PG: What better concept than "home" to amplify how different people's experiences are during this pandemic? So many fellows' research this year has focused on how the material dimensions of the home shape the experience of "domestic life." I am thinking of research by Viola, Anna Kushkova, Joshua Teplitsky, and Cecile Kuznitz about living in extremely crowded quarters, and learning to cook with what you have in new circumstances. I am thinking of research by Sigal Davidi about how the very layout of your home makes tasks like cooking or cleaning so much more complicated or simple. I am thinking of research by Claris Harbon on what happens to those who are denied a roof over their heads.
AA: One material dimension of the home that has been front and center these days is food: stockpiling, shopping, cooking.        
PG: Since this crisis began, all of us have performed stark calculations of our own families' needs as we minimize unnecessary visits to public places. How many pounds of rice and beans do we have in our pantries, how much baby formula (which some stores began rationing to ensure a steady supply), how much wine. As writer Felisa Rosa Rogers notes in her recent essay, this pandemic has given affluent people a taste of what food-insecure people in this country struggle with all the time.
A passage in the Mishnah provides a quantification of the minimum food and clothing a man must provide his wife. The passage enumerates a woman's weekly needs—two kavs of wheat, half a kav of lentils, half a log of oil—with a specificity that we can all newly relate to. I have read this passage dozens of times, and I always puzzled over why the Mishnah pauses and gives such an obsessive recounting of minimum food amounts. Scholars often even assume that women must have received more food—as much as they would like to eat or their husbands could afford to buy. But reading this passage again now in these strange times, I understand it as an expression of the normalized scarcity that characterized subsistence-agricultural societies.
AA: And how about the limitless attention Americans are paying to sourdough bread right now? It is not only about scarcity (or boredom) but also part of an imagined return to a more hearth-centered way of life during the Great Pause. Future historians will certainly have much to read into our obsessions at this moment.