New Issue of the Jewish Quarterly Review: Winter 2019
March 5, 2019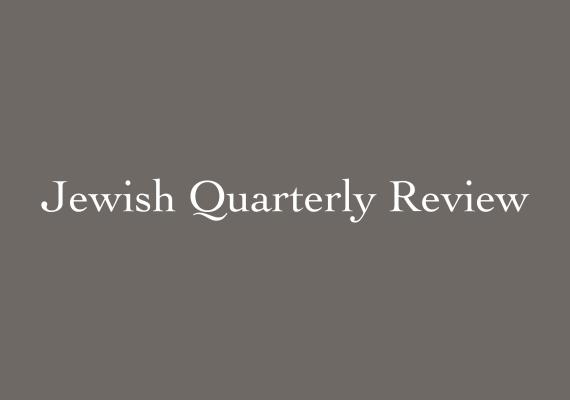 The TOC in 250 Words
JQR 109.1 is now available, online* and in print.
This issue's contents treat Jewish scholars and writers from the rabbis of the Talmud to today's newly minted PhDs.
Yuval Blankovsky's close attention to literary and rhetorical strategies in a well-known talmudic sugya reveals that its author aimed not at clarification of the Mishnah, as has been the standard interpretation, but at a total replacement of the Mishnah's view of what makes an owner liable for damages caused by his possessions.
Two essays illuminate the medieval language of love. In the first, Tovi Bibring identifies tropes of European courtly love—being caught in a lover's net, questing, passing erotic tests—in a selection of thirteenth-century Hebrew narratives. And in the second, Cyril Aslanov examines a set of Old French glosses on a medieval Hebrew commentary on the Song of Songs, explications that range from the technical to the astonishingly explicit.
Another two essays look closely at the lives of prolific, but lonely, spiritual travelers in early modernity. Uriel Gellman introduces a previously unknown figure, Moshe Kerner (1766–1836), whose written reflections on his life as an itinerant preacher reveal new complexity in the earliest steps toward modernity in Ashkenaz.
And David Ruderman writes about Moses Margoliouth (1818–1881), a prominent scholarly convert who found himself at odds with the English Christians who had supported his conversion.
In a substantial essay, Rachel Rafael Neis interrogates the use of legal studies as a matrix for Jewish studies. Neis's essay is free to read and download without a subscription for the next six months.
Read the JQR Blog for more content related to these essays and much more.
*The most recent four years of JQR are distributed online exclusively by Project Muse, where most articles are available to subscribers only. Log in through your home library for institutional access, or see jqr.pennpress.org to subscribe for just $42/year (discounted rates available).