Israel's Rights Revolution: Public Opinion and Constitutional Law
The First Annual Howard Jay Reiter Memorial Lecture
For the Public
Wednesday, March 29, 2023
Online and in person, reception to follow
Fitts Auditorium 
University of Pennsylvania Carey Law School 
3501 Sansom St, Philadelphia, PA
After a "constitutional revolution" during the 1990s, Israel is now facing a "counter-constitutional revolution" at a time of profound challenge to democratic governance and constitutionalism globally. Professor Medina will explore these changes and challenges in Israel's process of constitution-making through a lecture that aims to clarify the complex interactions of public opinion, the Supreme Court, and the government in Israel. 
About the Series:
Established in memory of Katz Center board member Howard Jay Reiter z"l, this new lecture series shares the riches of Israeli scholarship with the University of Pennsylvania community. Howard Jay Reiter z"l was the husband of Jody Ellant W'82, L'87 and the father of Gavriela C'17,  SP2'18, Aiden W'20, C'20, Ariana and Gideon. 
This program has been approved for a total of 1.5 Substantive CLE credits for Pennsylvania lawyers. Attendees seeking CLE credit can make a payment via cash or check made payable to The Trustees of the University of Pennsylvania on the day of the event or prior to the event via the online registration link in the amount of $60.00 ($30.00 public interest/non-profit attorneys). In order to receive the appropriate amount of credit, passwords provided throughout the program must be noted in your evaluation form.  
Penn Carey Law Alumni receive CLE credits free through The W.P. Carey Foundation's generous commitment to Lifelong Learning. 
About the image: Bruce Black, "Balance" (CC BY-SA 4.0) 
Featuring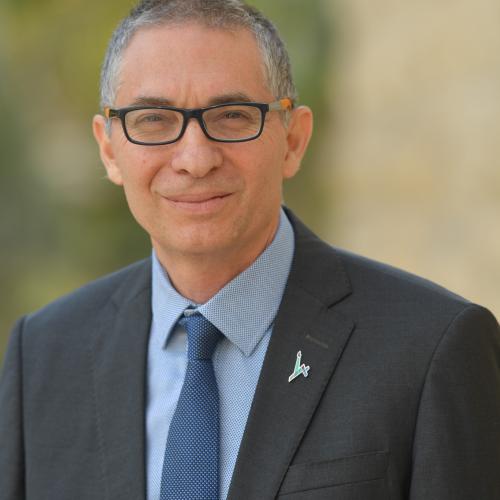 Barak Medina
Hebrew University of Jerusalem
Professor Medina holds the Justice Haim Cohen Chair in Human Rights at the Faculty of Law of the Hebrew University of Jerusalem, where he previously served as Dean (2009-2012), and Rector (2017-2022). His research interests include Israeli law, comparative constitutional law, and economic analysis of law.
Cosponsors
Cosponsored by the University of Pennsylvania Carey Law School, as a collaboration with the Caroline Zelaznik Gruss and Joseph S. Gruss Lecture in Talmudic Civil Law