Does the First Amendment Protect Jewish Objections to Abortion Bans?
For the Public
Tuesday, February 21, 2023
Online
Zoom link to be provided
Password required
Opponents of abortion rights have long argued that the U.S. Constitution has nothing to say about abortion and the issue therefore must be returned to the states. Now that the Supreme Court has adopted this position and overturned Roe v. Wade, many states ban abortion altogether. Some within the Jewish community contend that their faith requires recognizing a woman's right to an abortion, at least in some circumstances likely prohibited by such bans. This talk will explore whether the Free Exercise Clause of the First Amendment provides a possible avenue for religious proponents of abortion rights to challenge impending state prohibitions on abortion.
About the "Jewish Law and the Constitution" Series
The familiar talmudic statement dina de-malkhuta dina ("the law of the kingdom is the law") doesn't even begin to cover the complex relationship between Judaism and state law—especially when the state itself takes account of Jewish law and religion. This series of lectures will draw out some signal characteristics of that relationship as it has evolved and unfolded in the orbit of American constitutional law. Each speaker will highlight one arena in which the American legal system has been drawn into conversation with American Jewish life and vice versa. Case by case, they tell stories of religion and politics, democracy and minorities, theory and practice: law entangled with law.
About the image above: Catalogue, Belcher Mosaic Glass Company (New York, 1886), Winterthur Museum Library, via publicdomainreview.org.
Featuring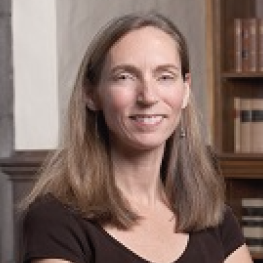 Anne C. Dailey
University of Connecticut School of Law
Anne C. Dailey is the Evangeline Starr Professor of Law at the University of Connecticut School of Law, where she has taught since 1990. She is a graduate of Yale College and Harvard Law School, where she was formerly the articles co-chair for the Harvard Law Review. Professor Dailey's scholarly work currently focuses on two areas of interest: children and the law, and psychology and the law. Her book, When Rational Minds Differ: Psychoanalysis, Scientific Psychology and Law was published by Yale University Press. In 2002, Professor Dailey was the recipient of the CORST prize from the American Psychoanalytic Association for the best interdisciplinary essay for a paper subsequently published in the Journal of the American Psychoanalytic Association. Since 2009, she has served as a research fellow at the Western New England Institute for Psychoanalysis.
Read more
Cosponsors
We gratefully acknowledge the support of the Klatt Family and the Harry Stern Family Foundation.