A University Tribute to Ione Apfelbaum Strauss
October 12, 2020
In recognition of Ione Abfelbaum Strauss' many contributions to the University of Pennsylvania, including her role as a trustee of the University, President Amy Gutmann and Chairman David Cohen have sent the following tribute to trustees past and present.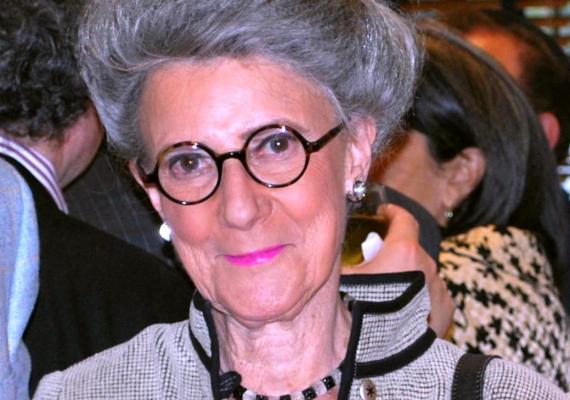 It is with great sadness that we inform you of the death of Former Trustee Ione Apfelbaum Strauss, CW'54, PAR'82. Ione became a Penn leader at a crucial point in our University's history, and her service helped open doors for the generations of volunteers that would one day follow. She will be deeply missed, and we offer our sincere condolences to her family and friends, especially her daughter Louise, C'82.
When Ione became a Trustee in 1972, it marked a turning point in University history. She had just been named the first female president of Penn Alumni (then known as the General Alumni Society) and the first woman ever to head a major private university's alumni society. Consequently, she became the first woman to represent our alumni on the Board of Trustees. Today we are proud of the rich diversity of backgrounds Penn's Trustees bring to their work, and we are tremendously grateful to Ione for helping to pave the way. 
Ione was a Penn pioneer in other areas as well. She was one of the inaugural Overseers of the School of Arts and Sciences, an early member of the Trustees' Council of Penn Women, and one of the longest-serving Overseers of the Katz Center for Advanced Judaic Studies. Over six decades of service, she held countless other volunteer roles on Penn organizations such as the Association of Alumnae, the University of Pennsylvania Press, the Commonwealth Relations Council, the former Women's Advisory Board of the Provost's Office, the Gazette Advisory Board, and the Class of 1954 Reunion and Gift Committees. 
We are very grateful to have had Ione's generous support of causes across the University, most especially her generosity to the Katz Center, where she served as chair and endowed the Louis Apfelbaum and Hortense Braunstein Apfelbaum Fellowship in memory of her parents and the Erika A. Strauss Teaching Fellowship in memory of her late daughter. 
Family was important to Ione and Penn was important to her family. Several of Ione's family members attended Penn, including her father, Louis Apfelbaum, who graduated in 1911, her late husband Hilary who did graduate work in American civilization here, and her daughter Louise who earned a bachelor's degree in sociology from the College in 1982 and now serves on the Katz Center Board.
After her own graduation with a degree in journalism from the College for Women in 1954, Ione worked briefly in that field but truly made her mark as a volunteer and philanthropist. In addition to her devoted work at Penn, which earned her the Alumni Award of Merit in 1971, Ione was a former president of the Phi Beta Kappa Association of the Delaware Valley, a benefactor of Jewish causes, and a patron of several community organizations in her native Chester County, Pennsylvania.
Ione was a trailblazer at her beloved University and holds a special place in Penn's history. On behalf of the entire Penn community, we extend our deepest sympathy to her family and friends.