In Memory of Ione Apfelbaum Strauss
October 5, 2020
The Katz Center mourns the recent passing of Ione Apfelbaum Strauss.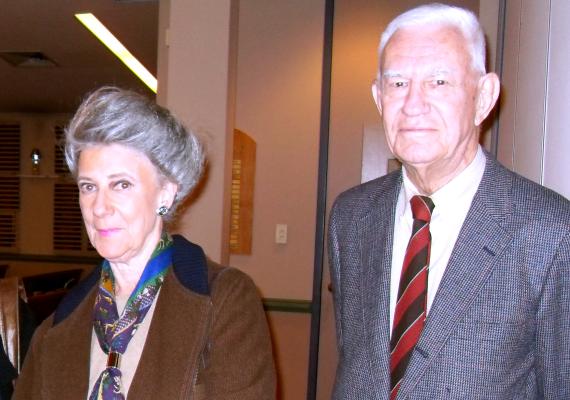 The Katz Center mourns the recent passing of Ione Apfelbaum Strauss (CW'54), who, in addition to her leadership as a university trustee, SAS overseer and president of Penn's alumni association, was also instrumental in the creation of the Katz Center, as a supporter, advisor and as the chair of its board.  
David Ruderman, founding director of the Katz Center, recalls how essential Ione's support was during the early years of the Center's formation, as it was merging into Penn and reforming itself as the leading post-doctoral research institution that it is today. "It was a struggle for the first several years," he has recalled. "Anytime I wanted to quit, Ione encouraged me to keep going. The payoff is the incredible relationship we've developed. … As long as I'm involved with the Center, I hope she'll be there too." David, together with his wife Phyllis, did indeed maintain a close friendship with Ione for many decades even as the Katz Center blossomed. 
Several others also remember how thoughtful and caring Ione was. Arthur Kiron, Penn Libraries' Schottenstein-Jesselson Curator of Judaica Collections, remarked upon her quiet inner-strength, sensitivity, and thoughtfulness, qualities that many Penn and Katz Center staff members also remember about her. In addition, people recall that Ione was a life-long learner; she and her husband Hilary devoured books and ideas, and they nurtured their personal contacts with scholars. 
The Katz Center honors Ione's leadership, special generosity of spirit, and love of learning, and will always feel deeply indebted to her for her many enduring contributions to the Center, to the field of Jewish studies, and to the university. Our deepest condolences go to her daughter Louise, a current board member and wonderful member of the Katz Center community as well. 
Those considering a donation in Ione's memory may do so by giving to the Katz Center or to the Rare Judaica Acquisitions Fund at Penn Libraries.