Notes from the 2018 Meyerhoff Lecture
October 31, 2018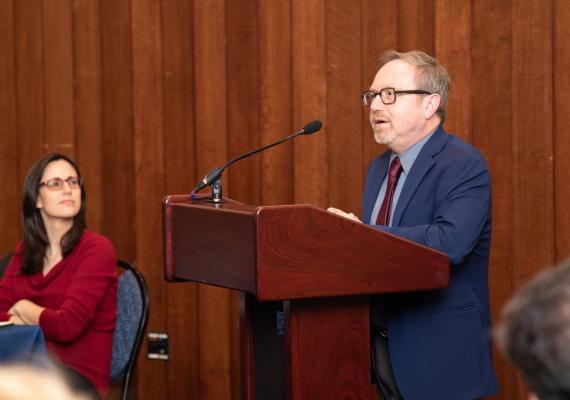 The Katz Center used the 2018 Meyerhoff Lecture as an opportunity to reflect on the field of Sephardi studies by inviting field pioneer Aron Rodrigue (Stanford University) to discuss his own fascinating intellectual biography, and to trace its legacy through the work of three influential students of the next generation. Julia Philips Cohen, one of Rodrigue's students, now associate professor of History at Vanderbilt University, ended her reflections with the following.
I wanted to conclude my remarks today with some reflections drawn from a translation I've been working on together with Gila Hadar for a forthcoming anthology titled The Posen Library of Jewish Culture and Civilization, which is being published in ten volumes by Yale University Press. 
The source in question is the 1908 autobiography of a Salonican Jewish woman named Reina HaCohen.
In her published work from the 1890s, HaCohen had railed against the attempts of Ottoman Jewish women to become "modern" alafranca—or in European fashion. This earlier, published body of her work might lead us to place her in a "traditionalist" camp—that is, among those Ottoman Jews who opposed westernization and looked askance at their coreligionists' attempts to rush head first into modern life.
Yet her 1908 unpublished autobiography shows the extent to which HaCohen was herself immersed in and enamored of European culture. She not only attended a Protestant missionary school, but also wrote about Europe as the world's intellectual and culture anchor. Without knowing of her publications from the late nineteenth century, all of this might have led us to consider her a "westernizer."
The little we know about HaCohen's life suggests that the dichotomies that have for so long structured discussions of modern Ottoman Jewish life only go so far. Indeed, HaCohen's story does not fit well into any existing narrative of Ottoman Sephardi modernity. She was deeply committed to Judaism and wrote of her mystical experiences of spirit possession at the same time that she described herself as a modern intellectual committed to the world of European letters.
What to make, then, of Reina HaCohen—this Salonican, Ottoman Jewish woman who wrote and published in Ladino about both the dangers and the allure of Europe, societally and personally? Was she a westernizer or traditionalist? It is precisely the fact that her story doesn't fit that is so exciting, because it means that the story is still being written, including by many people in this room.
Julia Philips Cohen (Vanderbilt University) is a Katz Center affiliated fellow and was also a fellow in 2011–2012 (Travel). She spoke on the panel of the 22nd Annual Joseph and Rebecca Meyerhoff program, "Jews, Muslims, and Modernity," which included, in addition to Rodrigue and Cohen, Jessica Marglin (University of Southern California) and Lital Levy (Princeton University).