Katz Center Fellows Reframe the American Jewish Experience
September 22, 2020
This year's fellows are populating a rich field of vision for a new story of the Jewish experience in America.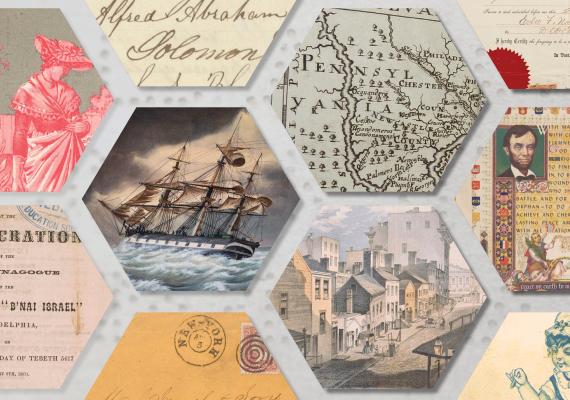 The idea that "America is different"—that American Jewish experience has been marked by success and progress in a way that was unprecedented, unexpected, and wildly impactful—is well entrenched. This year at the Katz Center, a diverse cohort of visiting research fellows is looking again at the American Jewish story, not necessarily to overturn a narrative but to reframe the question; in fact, to frame a new set of "America's Jewish questions."
In their individual research projects, these scholars bring new attention to the diversity of Jewish practices, politics, and peoples that have emerged in and in relation to the United States over its two and a half centuries. And they bring a variety of cultural, historical, literary, and social scientific perspectives that allow them to approach American Jewry from multiple and unexpected vantage points.
The recent rise of antisemitism and changing dynamics of Zionism in the United States alone would prompt a critical reassessment of American Jewish history; so would the new calls for justice and global challenges of 2020, which could not have been anticipated when the fellowship theme was conceived and planned but will undoubtedly come to transform our discourse. But the year is not limited to these pressing issues, nor is it merely asking again whether the American experiment has been a success for Jews. Instead, the Center will be supporting scholarship on:
Jewish philanthropy 

labor movements and economic activism

gender

prayer

migration

literature

theater

mass media

food

material culture 

and more
Together the fellows' areas of expertise and probing agendas will populate a rich field of vision for a new story of the Jewish experience in America. They'll collaborate in weekly closed-door seminars and enjoy periodic informal presentations from outside colleagues, and they'll share their findings—and their unanswered questions—in special events open to the academic community or to the public. Everyone should have a way to engage with the important work they're doing to set a new frame for the field, and for American Jewish self-reflection, going forward.
Please visit our calendar to see the diverse range of topics the fellows are exploring and to register for programs focused on "America's Jewish Questions."