The 19th-Century Convert Moses Margoliouth
May 8, 2019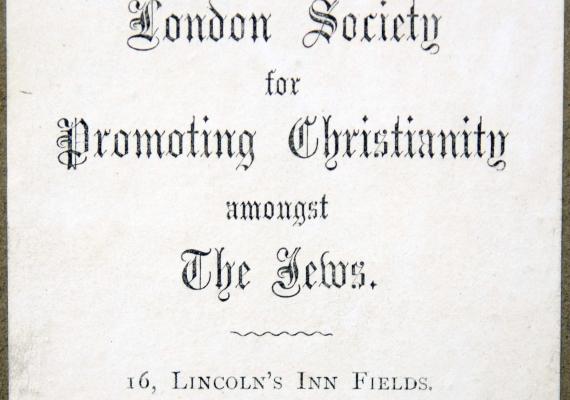 In the current issue, David Ruderman explores the lonely life of a Jewish convert to Christianity in nineteenth-century England. Moses Margoliouth (1818–1881) was a Polish Jew who became a Christian scholar and a minister in the Anglican church. Filled with religious certainty and intellectual confidence, a prolific writer and, in his own description, a charming and persuasive interlocutor, Margoliouth nevertheless had trouble finding his way in his new milieu.
Ruderman writes that Margoliouth "displayed a restless spirit, a high opinion of himself which some might call arrogance, along with a contentious and polemical style in dealing with those who disagreed with him." But just as critical to the difficulties he encountered was his position at the intersection of the social and intellectual worlds of Christians and Jews, since despite his complete embrace of his new religion, he continued to value—and, to some extent, trade upon—his Jewishness. He was personally attached to three different lands, in all of which his Jewishness was central in different ways: in Poland he expressed deep affection for his family, who supported him throughout his life, as well as for the wider Jewish community that displayed impressive piety and scholarship in his eyes. In England, he was appreciated by the Anglican missionaries for his Jewish testimony to the Christian truth; and he himself professed a special relationship to Jerusalem that could not be fully understood by his Christian colleagues.
At the same time, Margoliouth expressed disillusionment with those who had aided his conversion, calling them to account for their incomplete acceptance of converts and their bad opinion of those who remained Jewish—a stance he viewed as hypocritical and damaging. His resulting position of perpetual liminality, characteristic of Jewish converts in so many historical contexts, contributed to Margoliouth's marital instability, rancorous scholarly relationships, and frustrated career ambitions. He was a complicated man, to be sure, but also one who was caught in a complicated socio-religious knot, enduring and intractable.
Read Ruderman's essay and the rest of JQR 109.1 (Winter 2019) on Project Muse or any online journal distributor. For subscription information, go to jqr.pennpress.org.