Regulating without Control: Rabbinic Constructions of "Jewish" Territory in Roman Palestine
For Current Fellows
Wednesday, February 2, 2022
Katz Center
420 Walnut Street
Philadelphia, PA 1910
At the weekly Ruth Meltzer Seminars, Katz Center fellows share their research in an intellectually rigorous workshop setting. Seminars are limited to fellows only.
Featuring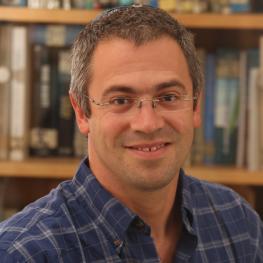 Hanan Mazeh
Ben Gurion University of the Negev
Hanan Mazeh is a scholar of late antique Rabbinic Literature. His research explores textual and thematic developments in this corpus as a key to understanding Rabbinic society in the first centuries CE within its cultural context. His particular focus is the Palestinian Talmud, and he is especially interested in questions of territory and relations between Jews and Gentiles in Roman Palestine.
Mazeh completed his PhD in Jewish History at Ben Gurion University of the Negev with a dissertation titled "Tractate 'Demai' of the Palestinian Talmud: Halakha, Interpretation, and Social Dynamics during the Amoraic Period." He has been a Rothschild Postdoctoral Fellow and a postdoctoral fellow in both the Department of History at Ben Gurion University and in a collaborative project conducted by the Einstein Center Chronoi in Berlin and the Hebrew University of Jerusalem.
Read more