Erich Mendel/Eric Mandel and the Archivization of Jewish Music before and after the Holocaust
For Current Fellows
Wednesday, September 27, 2023
Katz Center
420 Walnut Street
Philadelphia, PA 19106
At the weekly Ruth Meltzer Seminars, Katz Center fellows share their research in an intellectually rigorous workshop setting. Seminars are limited to fellows and invited guests only.
Featuring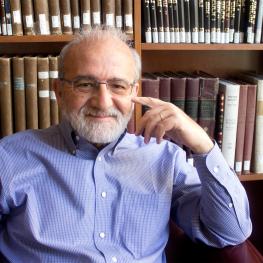 Edwin Seroussi
Hebrew University of Jerusalem
Edwin Seroussi is the Emanuel Alexandre Professor of Musicology and the director of the Jewish Music Research Center at the Hebrew University of Jerusalem. He researches North African and Eastern Mediterranean Jewish music, Judeo-Islamic relations in music, and Israeli popular music. A pioneer in the study of Mediterranean and Middle Eastern musical cultures and traditions, Seroussi was awarded the 2018 Israel Prize in the music category. He has also won the Joel Engel Prize for Life Achievement in Jewish Music Research, Tel Aviv Municipality.
Read more