Women Cantors, Media, and the Culture of Chastisement in Early 20th Century Cantorial Music
For Current Fellows
Wednesday, October 18, 2023
Katz Center
420 Walnut Street
Philadelphia, PA 19106
At the weekly Ruth Meltzer Seminars, Katz Center fellows share their research in an intellectually rigorous workshop setting. Seminars are limited to fellows and invited guests only.
Featuring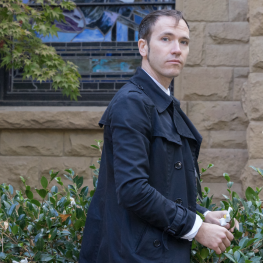 Jeremiah Lockwood
Yale Institute of Sacred Music 
Jeremiah Lockwood is a scholar and musician, working in the fields of Jewish studies, performance studies, and ethnomusicology. Both his music performance and scholarship gravitate toward the Jewish liturgical music and Yiddish expressive culture of the early twentieth century, and the reverberations of this cultural moment in present day communities. Lockwood's research considers the work of cantors as arbiters of social, intellectual, and aesthetic change in times of crisis and cultural transformation. Jeremiah received his Ph.D. from Stanford University in 2021. His book project, Golden Ages: Brooklyn Hasidic Cantorial Revival in the Digital Era (under contract with the University of California Press), illuminates the work of contemporary Hasidic cantors who embrace early twentieth-century cantorial music as a nonconforming aesthetic and spiritual practice that cuts against the grain of musical and social norms of American Jewish life. Jeremiah was a 2022–23 Yale Institute of Sacred Music Fellow, where he conducted research on the khazente phenomenon of gramophone-era women performers of cantorial music and composed a new piece of music responding to this fecund moment in Jewish musical history. Jeremiah has recorded more than a dozen albums over a music career that spans decades with his band The Sway Machinery and other projects. 
Read more