Disability, Jewishness, and Belonging from Nazi Vienna to Postwar Britain
For Current Fellows
Katz Center
420 Walnut Street
Philadelphia, PA 19106
Due to the current public health situation, all remaining seminars for the 2019–2020 academic year are limited to fellows and affiliated scholars.
Featuring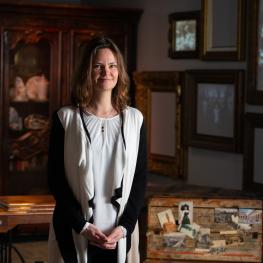 Katherine Sorrels
Katherine Sorrels is associate professor of history, affiliated faculty in Judaic studies, and co-chair of the Taft Medical Humanities Research Group, all at the University of Cincinnati. Her research concerns nationalism, internationalism, and health in modern Central European Jewish history. While at the Katz Center, she will focus on Austrian Jewish refugee doctors who pioneered new approaches to intellectual and developmental disabilities in the UK and US during and after the Second World War.
Sorrels received her PhD in history from the University of Pittsburgh. She has taught courses on modern Germany, immigration studies, and Holocaust studies, including Nazi medicine and scientific racism.
Read more