Nancy
E.
Berg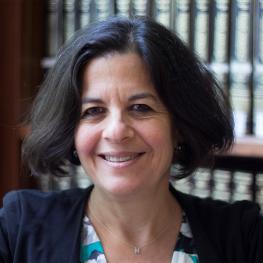 Washington University St. Louis
Dalck and Rose Feith Family Fellowship
Bio
Nancy E. Berg is professor of Hebrew and Comparative Literature at Washington University in St. Louis. She teaches courses in Israeli literature, Hebrew, and Jewish and Middle Eastern studies. While much of her scholarship focuses on the literature of Iraqi Jews, she has also researched Israeli women's writing, memory, and food.
Berg earned her PhD in Modern Hebrew and Arabic Literatures at the University of Pennsylvania. She has been a Lady Davis Fellow at the Hebrew University in Jerusalem and a CASA Fellow at the American University in Cairo.
Selected publications
"Jews among Muslims: Culinary Contexts" in Global Jewish Foodways: A History, ed. Hasia R. Diner and Simone Cinotto (University of Nebraska Press, 2018)
"Foreward" in Tenants and Cobwebs, by Samir Naqqash, trans. Sadok Masliyah (Syracuse University Press, 2018)
with Naomi Sokoloff, What We Talk about When We Talk about Hebrew (University of Washington Press, 2018)
Fellowship