Vacationing in Nazi Germany
September 24, 2020
Even as the Nazi state closed in, many bourgeois Jews continued to lead bourgeois lives, leaving records of vacations and family gatherings. Ashkenazi and Miron read these images and words, so apparently anodyne, and yet impossibly so.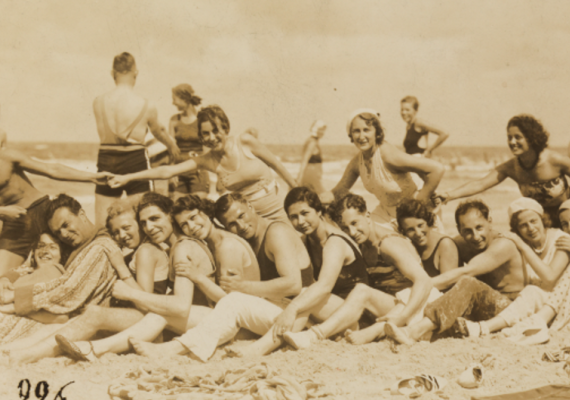 When set in cool water and heated only gradually, the frog—in a resonant metaphor—allows itself to be cooked without struggle. From the comfortable remove of history, foregone teloi in mind, we may shake our heads at the unthinkable complacency. It has often been through such a metaphor that we have gazed at certain apparently blindered aspects of Jewish bourgeois life in 1930s Germany. In the most recent JQR (110.3), Ofer Ashkenazi and Guy Miron analyze a large archive of images and recollections by Jews who took vacations in Nazi Germany in the years leading up to the war ("Jewish Vacations in Nazi Germany: Reflections on Time and Space amid an Unlikely Respite").
In a welcome turn, Ashkenazi and Miron look at these materials not as evidence of tragic passivity. They see in them the willful adherence to routine as a response to the instability all around them. Jews vacationed in the 30s, no longer as Germans or just as people as they had in years past, but newly perhaps, or in sharpened ways, as Jews—the beach representing a periodic release from incarceration. It is a differently inflected take on the tragedy of the age.
As the waters around us gradually heat, this era has special acuity. We look at it with new eyes. The nearly century-old images and words are magnetic. We try to peer behind those smiling faces, and seek, with some trepidation, ourselves in the bright faces and the fragile delusions they radiate. Will the quarantinis we enjoy on our porches as riots drag on in Portland and children are caged seem as willful, as inscrutable, as defiant, as mad?
Image: Young Jews enjoying the beaches on Norderney, in Germany's Wadden Sea, ca. 1934 (JMB, Brill Family Collection, 2013/296/75).