Opening Seminar: Some Notes on the Idea of Modernity in the MENA
October 5, 2018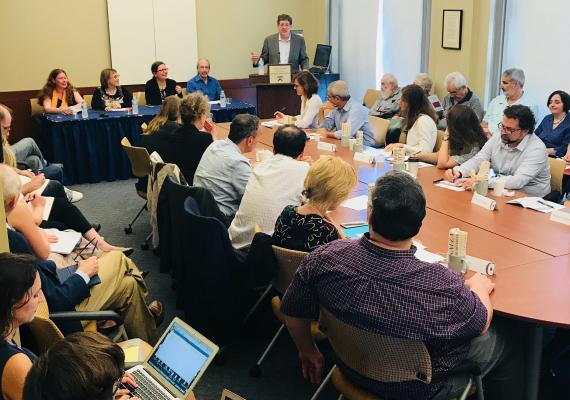 The Katz Center's 2018–19 fellowship year kicked off last week with a panel discussion.
Orit Bashkin (University of Chicago), Heather Sharkey, Firoozeh Kashani-Sabet, and Benjamin Nathans (all of Penn) were asked to reflect on the idea of "modernity," paying special attention to its analytical and descriptive utility in a range of non-European contexts.
Modernity is a term that was coined polemically in Western Europe as a way to contrast new thinking with classical modes. It has come to describe not only a period, but a fluid yet recognizable set of concepts: among them the emergence of the citizen and nation state, the self-determined individual, urbanization and industrialization—and along with that, new economic paradigms such as capitalism and Marxism, print and the rise in literacy, social mobility, and more. The term is a broadly useful descriptor for aspects of global change in the past three centuries. However, as Ben Nathans reminds us, it eludes careful definition, threatens to occlude nuanced readings of historical phenomena, and doesn't always easily transplant out of its European seedbed.
The panelists in turn discussed ways that modernity functioned as a heuristic in analyzing the Jewish experience in modern Muslim-majority contexts, and also the many ways that it should be approached with caution. At the same time, modernity can serve as a lever for revealing what the cultures and peoples of the Middle East and North Africa (MENA) in particular, and Islamic lands more broadly, have shared.
To list but a few provocations culled from the panel and subsequent discussion:
How does the binary East and West work in a range of interlocking contexts?
What count as center and periphery when speaking of minority cultures that already occupy peripheral locations within empires, nation-states, and regions?
How might we discuss not just the exportation and importation of the modern, but a "circulation of modernities"?
How can we avoid overly privileging "Western" influences on "Eastern" societies, while recognizing agency and autonomy in Islamic lands?
How do we account for the longstanding diversity of Jews within Islamic lands while also recognizing modern historical constructions of Jewish communities, as reflected, for example, in the idea of the "Mizrahim"?
How can we reconcile our histories of Jewish peoples in Islamic lands vis-à-vis shifting imperial, colonial, and national structures?
How do we manage the collateral realities of modern state formation, such as refugee crises and mass migrations?
What challenges do languages and access to sources pose to scholarship on the diverse Jewish communities of Islamic lands; what skills have been abundant and lacking among researchers; and how have these issues of accessibility affected scholarship to date?
When Christianity is also a minority religion, as under the Ottomans, how does this change our approach to theological and social relationships between Jews and Christians on the one hand, and Jews and Muslims on the other?
Why did the prophets of the modern so utterly fail to "predict the trajectory of religion in the 20th century?"
Is religious identity overly privileged in the analysis of social action? How can individual, economic, gender, and other factors be brought into balance with the religious analytical lens?
A wonderfully complex challenge emerged from the afternoon—how to see the case studies brought by this extraordinary group of incoming scholars, and use this variegated evidence and expertise to open new vistas on the landscape of the "modern."
Our work is just beginning.