Long-Time Staffer Sam Cardillo Says Farewell to the Katz Center
November 20, 2020
After more than thirty years, finance and administration manager Sam Cardillo is saying farewell to the Katz Center.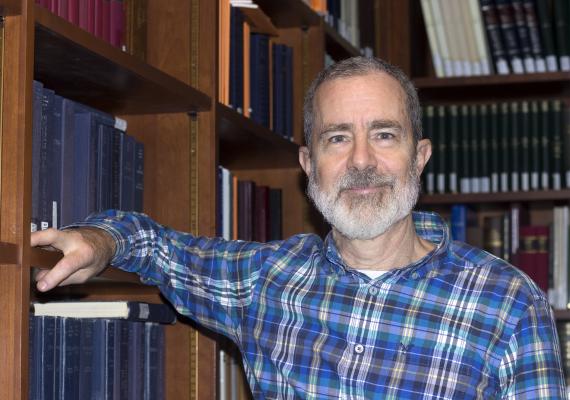 After more than thirty years, finance and administration manager Sam Cardillo is saying farewell to the Katz Center.
Sam's career with the Center began when he matriculated as a student at the Dropsie College for Hebrew and Cognate Learning. He stayed with the school when it became the Annenberg Research Institute and eventually the Herbert D. Katz Center for Advanced Judaic Studies at Penn. His role grew and evolved with time and has encompassed a wide range of tasks, including managing the Center's fiscal health while tending to the needs of the building itself.
Sam famously took charge when the Center experienced a massive flood in 2010, arranging for the remediation of the entire building, including an overhaul of furniture, helping to renovate damaged flooring and carpets, and working to replace water-logged technology.
In 2017 Sam jumped into action, quite literally, when he heard a worker on the adjacent building fall onto the Katz Center, a scary moment that created a major roofing emergency.
Sam shepherded the building for decades, and in 2011 the University recognized his work by making him a Models of Excellence Honoree. More recently, in 2019, he received a staff recognition award for his extraordinary commitment to the mission of the Katz Center and to the University of Pennsylvania.
Without a doubt, Sam's contributions to the Center have frequently gone above and beyond the call of duty, whether by helping fellows with moving boxes and books in the building and out, or by assisting staff members who need a second set of eyes to proofread documents. He was often the person to monitor the water cooler so that no one else would have to lift the heavy 5-gallon bottles, and he was always ready to handle it with a smile.
For the Center's fellows, over 500 of whom made their way through Sam's office, he came to embody helpfulness and integrity. He formed personal connections with many of them and cemented his legacy as a reliable, steady, and reassuring presence at 420 Walnut Street.
Everyone at the Katz Center will sorely miss Sam's friendly face, but we are all thrilled that he resides nearby and plans to keep visiting when we all reconvene post-pandemic.
Sam has maintained a robust array of extra-curricular hobbies over the years—including woodworking, traveling, and writing—and the staff and fellows of the Center are all wishing him the best as he turns his focus to these pursuits and the adventures still awaiting him.