For Judith Leifer on Her Retirement
June 4, 2018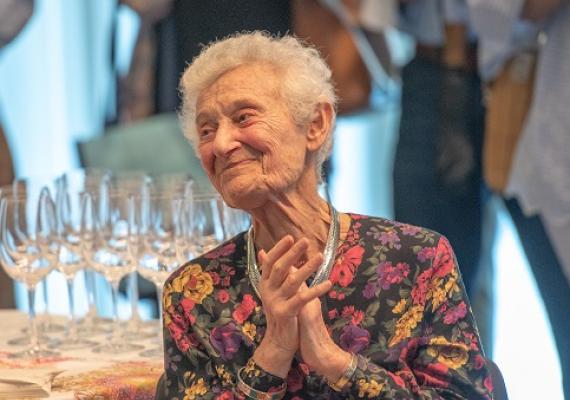 The words below accompanied the presentation of a book of letters sent by staff and past fellows of the Katz Center to honor the career of Judith Leifer, who retires on July 1, 2018 after thirty years of service. It is a collection of memories, tales of friendship and acts of kindness, feats of dogged bibliomania, as well as a long list of scholarly books in which Judith is thanked for her extraordinary efforts in aiding researchers to obtain the resources they needed. Judith will be sorely missed, and we wish her wonderful new adventures in this her next chapter. Her energy, élan, and generosity will ensure that her life is rich and rewarding, whatever she does next.
May 15, 2018
Dear Judith,
Congratulations on reaching this milestone in your life! For thirty years, since the September of 1988, when you first came to work at the library at the Annenberg Research Institute, which had just opened its doors, you have given of yourself in innumerable ways to serve the cause of scholarship. You have won the everlasting respect and admiration of so many. Speaking for myself, I must say that getting to know you, dating back to 1991 when I first met you, working with you as your supervisor since 1999 at the Penn Libraries, and getting to know a bit about your life over the years, has been one of the most memorable aspects of my career. Your life story is truly extraordinary. As a survivor of Nazi persecution, as a lieutenant in the IDF, as a nurse, as a wife, as a mother, as a grandmother and for the last thirty years as a librarian, you have faced and overcome so many challenges and achieved so much.  
Let it be said and recorded here for posterity that no amount of work or difficult challenge ever defeated you. I never imagined, for example, you would ever complete the duplicate books searching assignments I gave you. And here we are, hundreds of thousands of searches of books later, searches that you made in multiple languages, in multiple databases, with the project complete. Through frigid, icy conditions, through sunshine and fierce storms, you always came through and were and are simply indefatigable.  
Over these last thirty years, a generation of scholars have thanked you in their publications, celebrated your assistance in letters and messages sent to me, and otherwise praised you for your total dedication to the cause of learning. To mark this milestone, we thought it would be meaningful to gather words of appreciation from the multitude of people whose lives you enriched with your hard work and boundless passion. I hope you enjoy reading their messages to you, which Etty Lassman has compiled in this beautiful booklet which she has designed and produced. 
With all best wishes,
Arthur Kiron, Ph.D.
Schottenstein-Jesselson Curator of Judaica Collections
University of Pennsylvania Libraries