Bound in the Bond of Life
November 23, 2020
Beth Kissileff reflects on the shooting at Pittsburgh's Tree of Life synagogue and on Bound in the Bond of Life, a new essay collection that tells stories too complicated and painful to be reduced to a monument.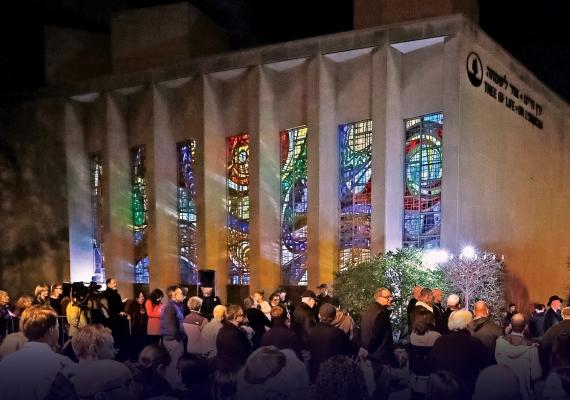 "This one hurts more," my seventy-something congregant, a Philadelphia native, tells me as we observe  that the new cemetery monument to the three men killed in an attack at our Pittsburgh synagogue in October 2018 is in the direct sightline of one dedicated in 2012 to those lost in the Shoah. 
I'd like to say it hurts more for me too, but I just don't think it is something that can be adjudicated. To me, it is abominable that Jews are killed for being Jews, full stop. It hurts because every time I am in synagogue, I miss the presence of these souls; when I speak to their loved ones and to survivors, I hear the pain in their voices and see it etched on their faces as they describe life without a spouse or a parent, or the sadness they feel that a young grandchild will never get to know his grandfather.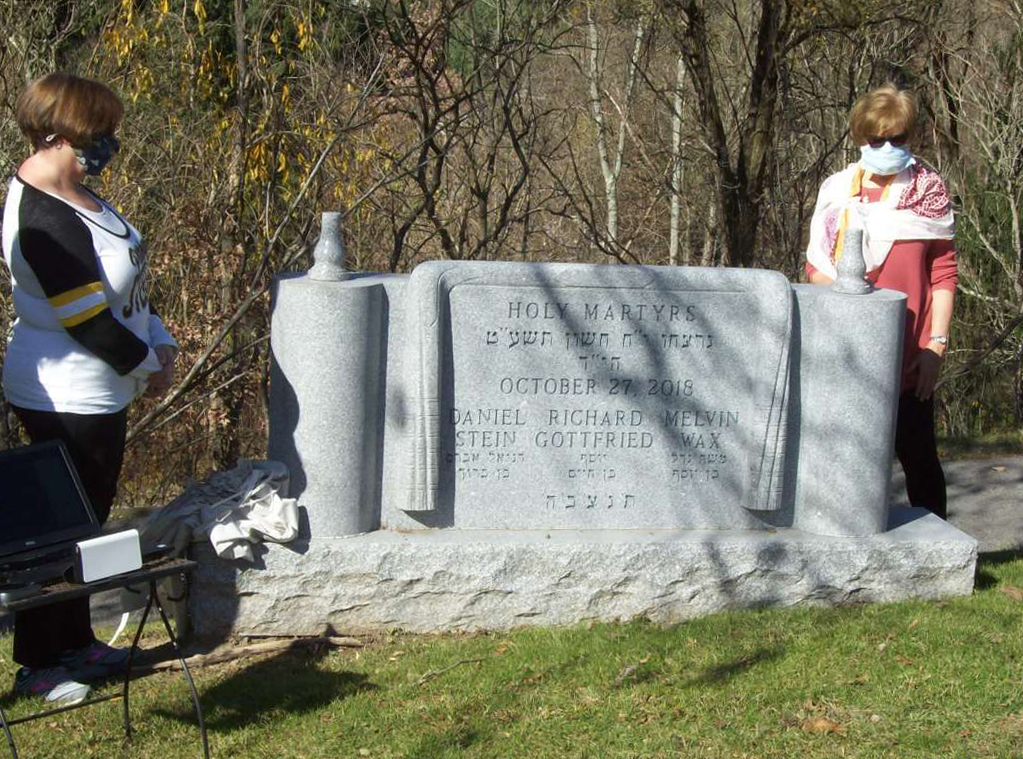 It also hurts because it was unexpected in America—at least to me. I didn't experience antisemitism growing up in northern New Jersey; my closest preparation was the February 2017 desecration of the Mount Carmel cemetery in North Philly, the final resting place of my great grandmother who I am named for. I never thought living Jews would be attacked. 
Though a stone monument is seemingly permanent, it can't tell the whole story of what happened on October 27, 2018 and how it affected the community that experienced the attack. With co-editor Eric Lidji, who is the archivist of the Jewish collections at the Heinz History Center, I put together an essay collection called Bound in the Bond of Life: Pittsburgh Writers Reflect on the Tree of Life Tragedy. The contributions from journalists, memoirists, poets, historians, academics, and rabbis access the emotions and understandings, and discuss not just what happened but how we felt about it. They tell stories too complicated and painful to be reduced to a few words carved on a stone. 
We divided the essays into three sections. The first, Here is Squirrel Hill, talks about the neighborhood itself, from the perspective of both natives and transplants, and includes an essay by Laurie Zittrain Eisenberg about the objects left at the Tree of Life site by well wishers of all backgrounds and nationalities. Eisenberg stresses that she wants future generations to know about the outpouring of support the Jewish community received from diverse corners, which is an important part of any remembrance of the event. Finding the Vessels contains essays which discuss what tools people used to cope in the aftermath of the attack; the tools include Argentinian tango, exploring the history of Jewish mourning practices, writing poetry and liturgical poetry about martyrdom, as well as keeping Shabbat and showing up to report on and write about what happened for the local newspaper. The final section, You Will Get Through It, comes from the injunction that one author's Holocaust survivor parents charged her with when she told them about a tragic event for the family. The message of resilience that the essays in this section convey is what we want to leave readers with, that despite the difficulty of the situation, it is possible to cope. It does not mean that there is not hardship and pain, but that it is possible to get through tragedy, though one shouldn't feel one will ever "get over" it.
This past November 8, alongside the stone monument, a Callery pear tree that survived 9/11 was planted at our New Light cemetery. The tree was nurtured at a high school in Queens, NY, and each year, plantings from it are given to three communities that have survived terror attacks. It seems fitting that we chose to memorialize our dead with this tree, something permanent as well as something that is growing and alive.
My own personal memorialization also comes through these vehicles, both the engraved stone and the living, growing tree. I see the book working in these ways, too, since it is engraved and solid in print as letters on the tombstone and, at the same time, something that grows in the minds of readers as they encounter the words and ideas implanted in the text.
The late Rabbi Jonathan Sacks said, "Jewish history has often been written in tears, but that is neither its essence nor its destiny." I hope that will remain true of America's own Jewish story. I am saddened by the hurt that has occurred in Jewish history, but optimistic that we can continue to find ways that get to the essence and destiny of Jewish life despite the many hurts we have experienced.
The Katz Center recently hosted "The Pittsburgh Synagogue Shooting: Reflections from Scholars & Writers on Life before and after America's Deadliest Antisemitic Attack," featuring Beth Kissileff with Bound in the Bond of Life contributors Laurie Eisenberg, Barbara Stern Burstin, and Adam Shear. The event was recorded and is now available on our Recorded Programs page.