Announcing the 2023–24 Fellows
May 17, 2023
Announcing the 2023–24 Fellows: The Sound and Music of Jewish Life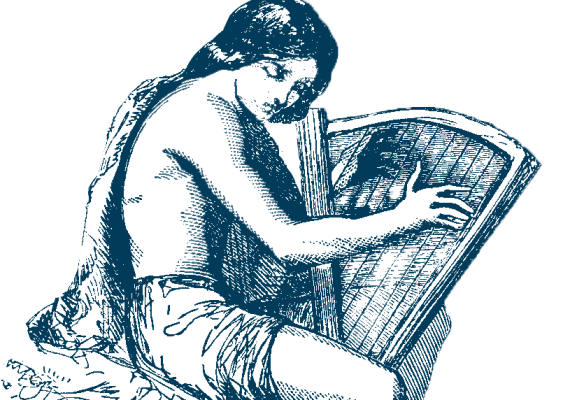 The Katz Center looks forward to a 2023–24 fellowship year devoted to the study of sound and music as a part of Jewish life, and we are delighted to announce the cohort of scholars who will join us for a year of research, conversation, and engagement with the Penn community and with the public. The fellows come to Philadelphia from Europe, Israel, and the Americas, and their research addresses a wide range of topics, among them the study of the Jewish voice in different religious and social settings, the use of song as a way of conveying the news, early efforts to develop a Jewish sign language, the contemporary orthodox female music industry, and many other exciting projects at the forefront of Jewish life past and present.    
The theme gives the Center an opportunity to explore the intersection between scholarship and the arts in new ways. We would love to share some of the sounds and insights of the year with the broader community locally and globally, so please check out our website later this summer for information about our online public programs, campus lectures, performances, and other opportunities to benefit from this intellectual community. 
2023–2024 Katz Center Fellows: 
Paula Ansaldo, Harvard University 
Ruth Meltzer Fellowship 
The Jewish Voice in Argentine Theatre: Aural Components in the Configuration of Jewish Characters 
Emma M. Brodeur, University of Rochester 
Ariel and Joshua Weiner Family Fellowship 
Signing Judaism: Moses Mendelssohn's "Living Script" and Deaf/Jewish Emancipation 
Mary Caldwell, University of Pennsylvania 
University of Pennsylvania Faculty Fellowship 
Praying, Singing, Sharing: Multilinguality, Contrafacture, and Jewish-Christian Exchange in Medieval Song 
Oren Cohen Roman, University of Haifa 
Thomas and Elissa Ellant Katz Fellowship 
Jews Singing the News: The Performance of Older Yiddish "Historical" Songs 
Naomi Cohn Zentner, Bar-Ilan University 
Thomas and Elissa Ellant Katz Fellowship 
Religious Ritual Reenacted: A View from the Israeli Concert Stage  
Samantha M. Cooper, Harvard University 
Ariel and Joshua Weiner Family Fellowship 
American Jews and the Making of the New York Opera Industry, 1880–1940 
Galeet Dardashti, New York University 
Ivan and Nina Ross Family Fellowship 
Reconfiguring Sephardi/Mizrahi Musical Practice: Israel and North America  
Uri Erman, Ben-Gurion University 
Jody Ellant and Howard Reiter Family Fellowship 
John Braham, Sacred Tenor  
Hadar Feldman Samet, Tel Aviv University 
Ivan and Nina Ross Family Fellowship 
The Missing Chapter in Ottoman-Jewish Musical and Cultural History: Songs, Soundscapes, and Early Modern Society 
Gila Flam, The National Library of Jerusalem 
Primo Levi Fellowship 
An Autoethnography of Jewish Sound 
Katherina Galor, Brown University 
Louis Apfelbaum and Hortense Braunstein Apfelbaum Fellowship 
Esther of Carpentras between the Centuries  
Kay Kaufman Shelemay, Harvard University 
Dalck and Rose Feith Family Fellowship 
Connecting Musical Worlds: Crossroads in Jewish and African Studies 
Mark Kligman, University of California, Los Angeles 
Thomas and Elissa Ellant Katz Fellowship 
"We've Got the Music": Orthodox Jews Asserting a Sonic Identity 
Jeremiah Lockwood, Yale Institute of Sacred Music 
Maurice Amado Foundation Fellowship 
Melody Like a Confession: A Cultural History of the Cantorial "Golden Age" 
Michael Lukin, Hebrew University of Jerusalem 
Ruth Meltzer Fellowship 
Old Hasidic Nigunim: Aesthetics and Semiotics  
Jessica Roda, Georgetown University 
Albert J. Wood Fellowship 
The Global Ecology of the Orthodox Female Music Industry: Creativity, Spirituality, and Wellbeing 
Edwin Seroussi, Hebrew University of Jerusalem 
Ellie and Herbert D. Katz Distinguished Fellowship 
German Jewish Sacred Musical Intersections at the Eric Mandell Collection of Jewish Music in Philadelphia  
Yonatan Turgeman, Hebrew University of Jerusalem 
Charles W. and Sally Rothfeld Fellowship 
"Living Seeds of the Bible": The Search for Jewish Sprachgesang