The Diaspora Within: Mizrahi Jews from Minneapolis to Jerusalem
For the Public
Online
Zoom Link to be provided
Password required
Contact:
Dajana Denes Walters
Mizrahi Jews in Israel, like other minorities of color, have suffered from institutionalized racism. Reversing the gaze from an Ashkenazi-centered Zionist narrative that others them, this talk offers a counter-story of modern Israel told from the perspective of Mizrahi Jews and focused on the socio-legal oppression that affects many aspects of their lives from housing to education, the media, health, etc. Dr. Harbon will draw parallels to other transnational groups including Aboriginal, Arab, and Black diasporas. She will discuss the vast influence of Black American history, literature, critique, and civil rights activism on the evolution of Mizrahi resistance and pride, promoting a sense of belonging to what she calls a "diaspora within."
The Jews, Race, and Religion series uses the prism of Jewish experience to examine intersections of race and religion, drawing lessons from the history of antisemitism, examining the role of Jews in the racialized culture of the United States, and exploring the role of race in Jewish identity. Leading scholars in Jewish Studies, Critical Race Studies, and Religious Studies will share insights and research that deepens the conversation about race, racism and anti-racism in contemporary society, both American and Jewish.
Click here to visit our organizing partner's website and to access suggested readings related to the course.
This event will be recorded and made available on our YouTube channel, which you can visit by clicking here.
Jews, Race, and Religion: A Series
Download
Featuring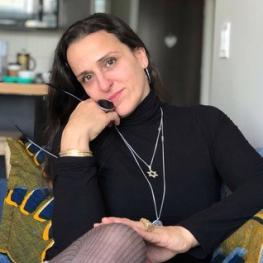 Claris Harbon
Dr. Claris Harbon is an Arab Jew/Mizrahi feminist and a human and socioeconomic rights lawyer and scholar, originally from Israel. The socio-legal status of Mizrahis in modern Israel has been at the center of her work both academically and practically, with special focus on the discriminatory impact of Israeli land law and public housing policy.
Read more
Cosponsors
This event is cosponsored by the Katz Center and the Center for Jewish Ethics, an initiative of the Reconstructionist Rabbinical College.
We gratefully acknowledge the support of the Klatt Family and the Harry Stern Family Foundation.