Samantha
M.
Cooper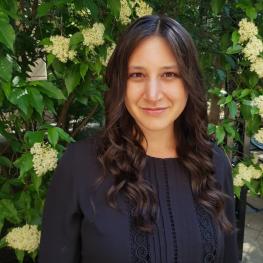 Ariel and Joshua Weiner Family Fellowship
Bio
Samantha Cooper is a historical musicologist specializing in American Jewish cultural history. As a Katz Center fellow, Samantha will continue working on her first monograph, American Jews and the Making of the New York Opera Industry, which she began as a Harry Starr Postdoctoral Fellow in Judaica at Harvard University's Center for Jewish Studies. Cooper received her Ph.D. in Historical Musicology at New York University in May 2022 for her dissertation, "Cultivating High Society: American Jews Engaging European Opera in New York, 1880–1940." Cooper is the producer and host of "The Sounding Jewish Podcast," and the associate executive director of the Jewish Music Forum, a project of the American Society for Jewish Music.
Selected publications
"Emma Goldman, An Anarchist at the Opera," American Jewish History 106.2 (2022).
"'I'd Rather [Sound] Blue': Listening to Agency, Hybridity, and Intersectionality in the Vocal Recordings of Fanny Brice and Barbra Streisand," Journal of the Society for American Music 16.1 (2022).
"The Contemporary Study of Jewish Engagement with Opera in America" with Daniela Smolov Levy, Journal of Synagogue Music 46.1 (2021).
Fellowship