Galeet
Dardashti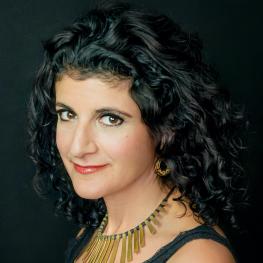 Ivan and Nina Ross Family Fellowship
Research Topic
Reconfiguring Sephardi/Mizrahi Musical Practice: Israel and North America
Bio
Galeet Dardashti is a performer, anthropologist, and advocate of Middle Eastern and North African Jewish culture. She founded the all-woman Middle Eastern Jewish ensemble, Divahn, and received a Six Points Fellowship to pursue her multidisciplinary project and nationally acclaimed solo release, The Naming, which interprets some of the compelling women of the Bible. In her upcoming commissioned release, Monajat, Dardashti reinvents the reflective musical ritual of penitential prayers (seliḥot) using digital technology to sing with recordings of her famed Iranian grandfather. As a scholar, Dardashti's work examines Mizrahi cultural politics/music, and Israeli media. Her current book project explores the Mizrahi piyyut (sacred poetry/song) phenomenon in contemporary Israel. Dardashti has also begun research on progressive, millenial Sephardi/Mizrahi North American Jews. She has been a postdoctoral fellow at NYU and Rutgers and assistant professor/musician in residence at JTS. She is currently a visiting professor at NYU. 
Selected publications
 ​​​​​
"Middle Eastern and North African Jewish Music in the US Public Sphere: 2000–2020," in a special issue "Contemporary Jewish Music in America 2000–2020: A Symposium," ed. M. Kligman and J. M. Cohen, Journal of Synagogue Music 46.1 (2021). 
"Jews and Popular Culture in the Twentieth Century: Israel and the Middle East" with Amy Horowitz, in The Cambridge History of Judaism, vol.8: The Modern Period (c. 1815–2000) (Cambridge University Press, 2017). 
"Televised Agendas: How Global Funders Make Israeli Television More Jewish," Jewish Film and New Media: An International Journal 3.1 (2015). 
Fellowship