When Jews Lived in Castles
October 25, 2019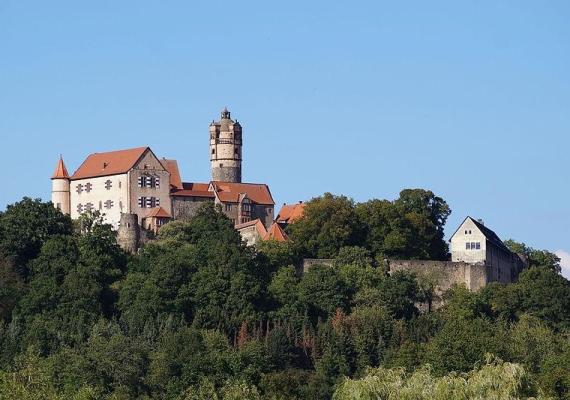 Like many children, I owned a toy castle and spent a lot of time defeating evil dragons with plastic knights and celebrating splendorous court festivities. My fascination with castles persists, which is why I take every opportunity to visit noble aristocratic estates and ruined walls surrounded by moats. When a friend told me a couple of years ago that the Ronneburg Castle, just outside of Frankfurt am Main, was for sale, I set off to visit it immediately.
It quickly became apparent that that castle was not for sale (nor indeed could I afford it if it were).
Yet, the visit was not a total loss. I discovered the fascinating history of the place, including the fact that at the beginning of the eigthteenth century the Ronnenburg was home to many Jews—and not only Jews but also Huguenots, Roma, and others who had been expelled from Salzburg, as well as groups from different religious backgrounds including Nikolaus of Zinsendorf and the Moravian brothers. It seems that Ronneburg, like other castles, has a little-known past that extends beyond its medieval glory. After the invention of firearms rendered medieval fortifications obsolete, noblemen who owned castles tried, and often failed, to renovate them into more modern luxury palaces. The drafty castles were too often abandoned by their owners for new construction and some noblemen began to rent out their estates to various kinds of refugees.
Some of the families from these diverse groups stayed for several generations at the Ronneburg, where they furnished flats and built workshops and even sacred spaces. While Christians operated weaving mills there, Jewish inhabitants organized the raw material and the goods' distribution. Indeed, the estate became a special refuge of religious freedom, and of religious and economic interaction between Jews and Christian nonconformists, until most of them emigrated to the United States in the eighteenth and nineteenth centuries.
That castle enthusiasts would encounter aristocrats and civil servants is rather commonplace; Jews as castle inhabitants, however, might seem to constitute an exception. And yet the modern history of the Ronneburg is no isolated case: According to different medieval sources, Jewish inhabitants lived in castle settlements and contributed substantially, as, for example, in the Hessian Friedberg, to the work of transforming these estates from local administrative centers into cities. During the second crusade, Jews often fled behind the high walls of their territorial lords. True, the princes and knights who harbored them did not act completely selflessly, and demanded protection money. A large payout by Rhenish Jews, for example, prompted the archbishop of Cologne to transfer to them the Wolkenburg Castle near Bonn, Germany for protection in September 1146.
Ephraim bar Jacob, who fled to the Wolkenburg with his family at the age of thirteen, recounts that this well-fortified castle repelled a dangerous mob. During the later waves of persecution, the mob did sometimes manage to storm these strongholds with deadly results, yet these estates offered better protection than cities. It is therefore no surprise that we find records of Jewish ownership of buildings in castle complexes, mainly through pledge and for a short amount of time, during the Black Death persecutions in the fourteenth century. These arrangements reflect a felicitous meeting between the increased debt of the noble elite and an increased need for safety on the part of their Jewish creditors. The existence of Jewish troubadours and some Jewish literature tell us that Jews also took part in the joyful events of courtly life.
Similarly, the clerics of Mainz pledged the Spangenberg Castle to a Jew from Speyer named Kaufmann before the persecution waves of the year 1385. The Kaufmann family not only had their economic returns contractually guaranteed, but also had the right "to convert the house according to their own wishes and purposes," and to lend out the building to other Christians or Jews, if redemption was not met within the period stipulated.
Other evidence tells us that some Jews had less auspicious residencies in castles: Hebrew graffiti on bricks and old accounts reveal Jewish prisoners yearning for release from the dark cellars. The most well-known prisoner, Meir of Rothenburg, forbade a ransom to be paid for his extradition in order to not create a tempting precedent for kidnapping Jews for profit. He eventually died at the castle of Ensisheim in Alsace.
As mentioned above, with the end of the Middle Ages the function of castles changed drastically. In many cases, the owners attempted to redesign the fortifications into buildings better suited to the age. Yet, the castles were too uncomfortable and remotely located, which is why so many chose to move into modern palaces down in the valleys. Bereft of their strategic significance and because of the enormous expense of proper conservation, many castles decayed. This proved another sort of opportunity for Jews, where Jewish desires for housing answered aristocratic need for income. Since these fortifications, contrary to most cities, were not subject to the settlement restrictions for Jews since the Thirty Years' War, Jewish families attempted to settle in them in times of rising and pressing housing shortage and homelessness. As an added bonus, the ensemble of buildings, surrounded by walls and gates, formed a natural eruv and offered an opportunity to furnish upper floors with prayer rooms. We have more than a dozen recorded cases of such reuse.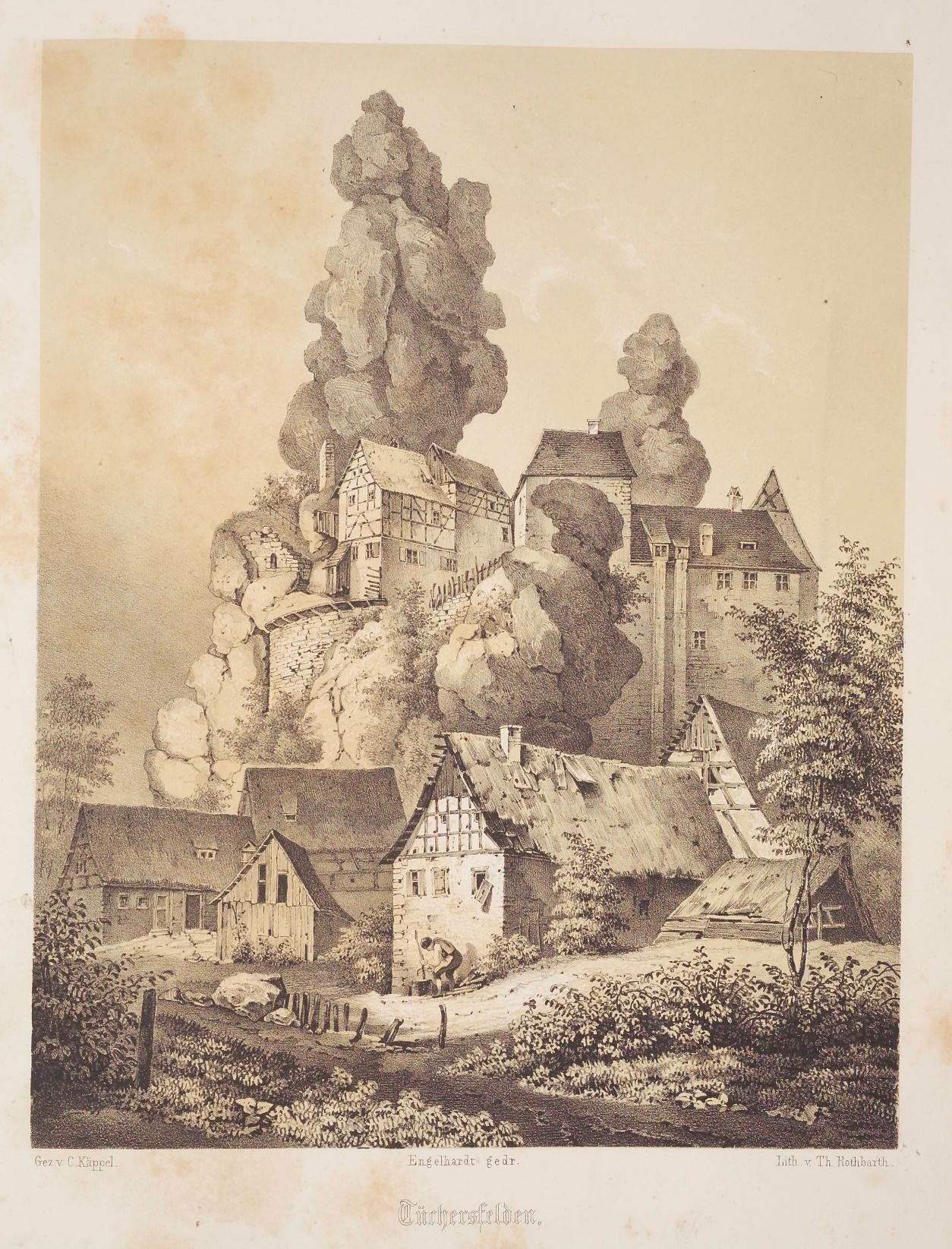 A few years ago, I discovered that at the "Lower Castle" of the Franconian village Tüchersfeld included an entire early modern Jewish quarter including synagogue, mikveh, and bakery. The buildings had been in rubble since the Thirty Years' War; Jewish families in the early eighteenth century were able to acquire, for a fee, the legal right to turn the ruins into living space. Yet, as a consequence of emigration to the United States and rising urbanization, this small community disbanded and the buildings were sold in the 1860s.
In the nineteenth century, some rich Jews were in a position to acquire aristocratic estates outright. Increasing state debt together with the professionalization of the banking industry and industrialization led some kings to ennoble particularly economically successful Jews—generally after they had been baptized. This shift awakened a desire in others to obtain such titles and the architectural manifestation of social advancement without having to convert. Owning a castle played into this new social status: it was the architecture that echoed the title. Thus, for example, Jakob von Hirsch from Würzburg bought the castle Trunstadt around the year 1815 and was further entitled with the right to exercise jurisdiction over his Christian subjects. Yet, some Jews rejected the opportunity to acquire aristocratic estates, fearing that their descendants, seduced by the glamorous titles and privileges, would convert.
These aristocratic estates tell a history of eventful Jewish-Christian relationships from the past that has often been unseen by scholars; it is a history which preserves amusing episodes and not just sorrow. The account books of Dietrich IV of Volmarstein include a payment made by the knight of Hessian Castle to a Jew named Bonifaz—because of a lost dice game in 1382. Maybe one of the two had too much beer?