Schechter in Cambridge and Philadelphia
January 16, 2018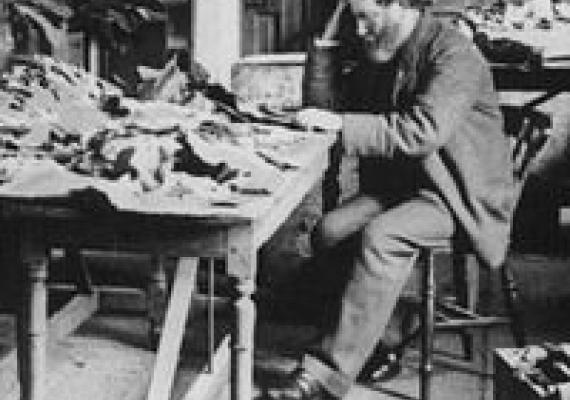 November 2015 marked the centenary of the death of Solomon Schechter, one of the most original, accomplished, and versatile Jewish scholars of the late nineteenth and early twentieth centuries. To explore Schechter's life, work, and legacies on both sides of the Atlantic, the Centre for Research in the Arts, Social Sciences and Humanities (CRASSH) at the University of Cambridge and the Katz Center at the University of Pennsylvania joined forces to convene a pair of conferences.
One conference, Solomon Schechter's Life and Legacy: A Jewish Scholar in Victorian England (1882–1901), met at the Old Divinity School, St John's College, Cambridge. This conference focused on the English chapter of Schechter's life (1882/3–1902) and especially his work as a scholar. The other conference, Solomon Schechter's Life and Legacy: American Transformations (1902–1915) was hosted by the Katz Center and convened at the National Museum of American Jewish History in Philadelphia. It focused on the American chapter of Schechter's life (1902–15), framed in large part by his stewardship of the Jewish Theological Seminary and his role in the emergence of Conservative Judaism and in American Jewish life generally.
Scholars from Israel, Europe, and North America, many of them former Katz Center fellows, attended both conferences. A wide range of rich papers illuminated Schechter's many-sided scholarship, his friendships (and animosities), his work on medieval manuscripts before and after the discovery of the Cairo Genizah, his flair for his adopted English, and his intellectual path from a Hasidic childhood through the new institutions of Jewish science in Vienna and Berlin to Victorian London and Cambridge and finally to New York. Both conferences were recorded on video (Philadelphia here, Cambridge here), and two subsequent publications offer reflections on Schechter life and work on the occasion of the centennial. Jewish Quarterly Review 106.2 (Spring 2016) opens with a forum devoted to Schechter's English writings: "Some Essays on Some Essays by Solomon Schechter," with an introduction by Elliott Horowitz. And Jewish Historical Studies (Transactions of the Jewish Historical Society of England) 48 (2016), a special issue guest-edited by Theodor Dunkelgrün, includes seven essays devoted to Schechter. Five of these were delivered as lectures to the Cambridge conference; a sixth, by Mirjam Thulin, is a revision of the lecture she delivered at the Philadelphia conference; and a seventh, by David Starr (see Starr's blog post on Schechter here), builds on his lectures at both conferences. 
• Theodor Dunkelgrün, "Solomon Schechter: A Jewish scholar in Victorian England (1882–1902)"
• Ismar Schorsch, "Schechter's Indebtedness to Zunz"
• Ephraim Kanarfogel, "Solomon Schechter and Medieval European Rabbinic Literature"
• Ben Outhwaite, "Schechter's Eye for the Extraordinary"
• Stefan Reif, "Schechter's Approach to Jewish Liturgy"
• Bernhard Maier, "William Robertson Smith, Solomon Schechter and Contemporary Judaism"
• David B. Starr, "Against the Certain: Solomon Schechter's Theology and Religion in His British Years, 1882–1902"
• Mirjam Thulin, "Wissenschaft and Correspondence: Solomon Schechter between Europe and America"   
Jewish Historical Studies (Transactions of the Jewish Historical Society of England) is now published entirely in Open Access by the University College London Press. The entire special issue devoted to Schechter—the fruit of collaboration between CRASSH at Cambridge and the Herbert D. Katz Center at Penn—can be read here.