Library at the Katz Center Acquires Decorated Ketubbot from Europe, North Africa, and the Middle East
January 30, 2018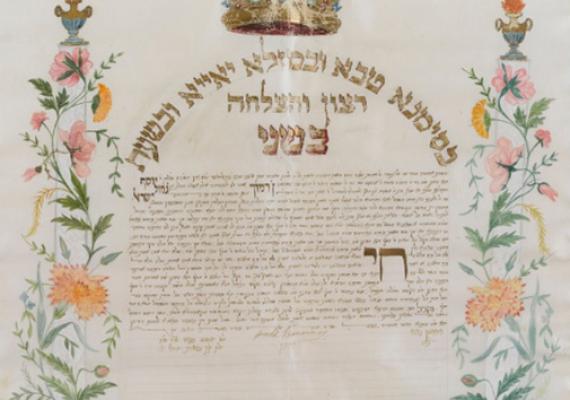 The Library at the Katz Center holds a wide range of Judaica in the form of photographs, ephemera, and, as of December 20, 2017, a collection of Jewish marriage contracts (ketubbot) from North Africa, the Middle East, and Europe. These ten beautifully illustrated documents date from 1862–1931, and originate from Fez, Ancona, Izmir, Gibraltar, and Aleppo, among other places. 
Traditionally signed at the start of Jewish wedding celebrations, ketubbot often feature detailed designs, ranging from floral paint patterns to meticulous paper cut compositions, and much more. The ketubbot in this particular collection vary in appearance. Some deviate from a rectangular shape, appearing on paper or parchment cut into creative silhouettes. Some are accompanied by royal imagery, such as crowns, while others include architectural components, such as columns and roofs. Click this link to see them up close.
Each item in the collection is dated and legible, indicating clearly the names of the wedded couples, the locations of their weddings, and the dates of the events. Used in marriage ceremonies across the world, the details of the ketubbot reflect their distinct places of origin.
The Library at the Katz Center is always acquiring new materials for the preservation and study of Jewish history and culture. This newest acquisition was supervised by Arthur Kiron, the Schottenstein-Jesselson Curator of Judaica Collections at Penn Libraries, and was made possible by the generosity of the Elis and Ruth Douer Endowed Fund for Judaica Collections.