Katz Center Fellow Dr. Elazar Ben-Lulu on Reform Lifecycle Rituals, LGBTQ Culture in Judaism, and Religious Observance During COVID-19
September 30, 2020
This blog post is part of a series focused on the research of current fellows. In this edition, Katz Center Director Steven Weitzman sits down with Elazar Ben-Lulu, who is an anthropologist of religion and gender with a particular interest in the intersection of LGBTQ identities and Judaism.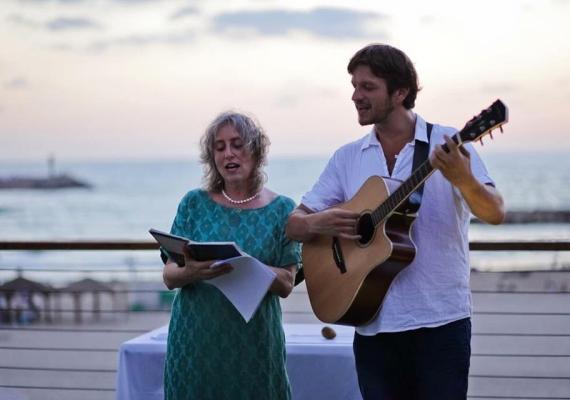 Steven P. Weitzman (SPW): Elazar, can you tell us a little about how you came to your intellectual interests, and what you are hoping to accomplish as a Katz Center fellow this year?
Elazar Ben-Lulu (EBL): I focus on Reform lifecycle rituals performed by LGBTQ Jewish families. Currently, I am comparing LGBTQ families in Israel and the US, hoping to shed light on the construction of contemporary religious communities and Jewish peoplehood in both countries, and to expose diverse configurations of queer families which have not been sufficiently researched to date. My study examines the American assumption that a family's choice to conduct a Reform ritual is a statement of Jewish congregational affiliation and a choice among a gamut of legitimate Jewish praxes. From the Israeli point of view, in contrast, parents making this choice are seen as taking a stance of radical opposition, which results in double social exclusion—identifying as members of the Israeli Reform community and as part of the LGBTQ community.
I hope this year to expand my knowledge regarding American Jewish religious life, and to conduct ethnographic fieldwork, which will include observations and interviews.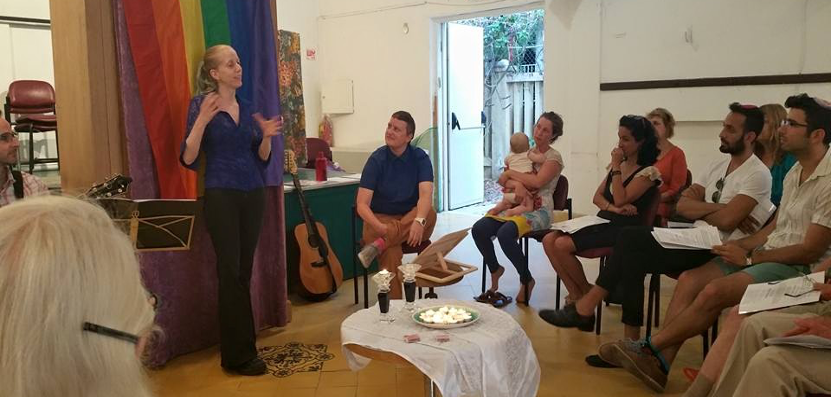 SPW: One of the reasons I am personally interested in your research is that I grew up in a Reform congregation and am now married to a Reform rabbi, and much of your research focuses on Reform congregations in North American and Israeli contexts. Can you tell us a bit about what you've been learning about Reform congregations in Israel?
EBL: My doctoral research drew on three years of fieldwork (2014–17) examining Jewish holiday rituals and Shabbat services in Israeli Reform congregations. The study demonstrated that these rituals and services are political performances affirming and empowering gender and sexual minorities that were previously excluded from Jewish liturgy and thus from the Jewish community. I found that the participation of women and members of the LGBTQ community in these rituals have changed traditional structures, eliminated gender-discriminating customs, reinterpreted religious masculine symbols, and included new gendered blessings and creative performances.
On the macro level, this local case study reveals how the ethno-national State, which defines the Orthodoxy as the dominant authority, supervises not only civic matters but also matters of religion and gender as well. Paradoxically, State exclusion became an opportunity for Reform congregations in Israel to innovate, as the Reform congregation enjoys a great deal of freedom when it is not overseen by government agencies or the traditional and conservative Orthodox establishment.
My research illuminates contemporary religious communities' challenges and changes in the construction of gender equality, and shows how tradition might be used as a political landscape for social recognition in the post-modern era. A number of my articles based on this research have been published in American journals, including the Journal of Homosexuality, Contemporary Jewry, Journal of Contemporary Religion, Journal of Modern Jewish Studies, as well as in Israeli peer-reviewed journals.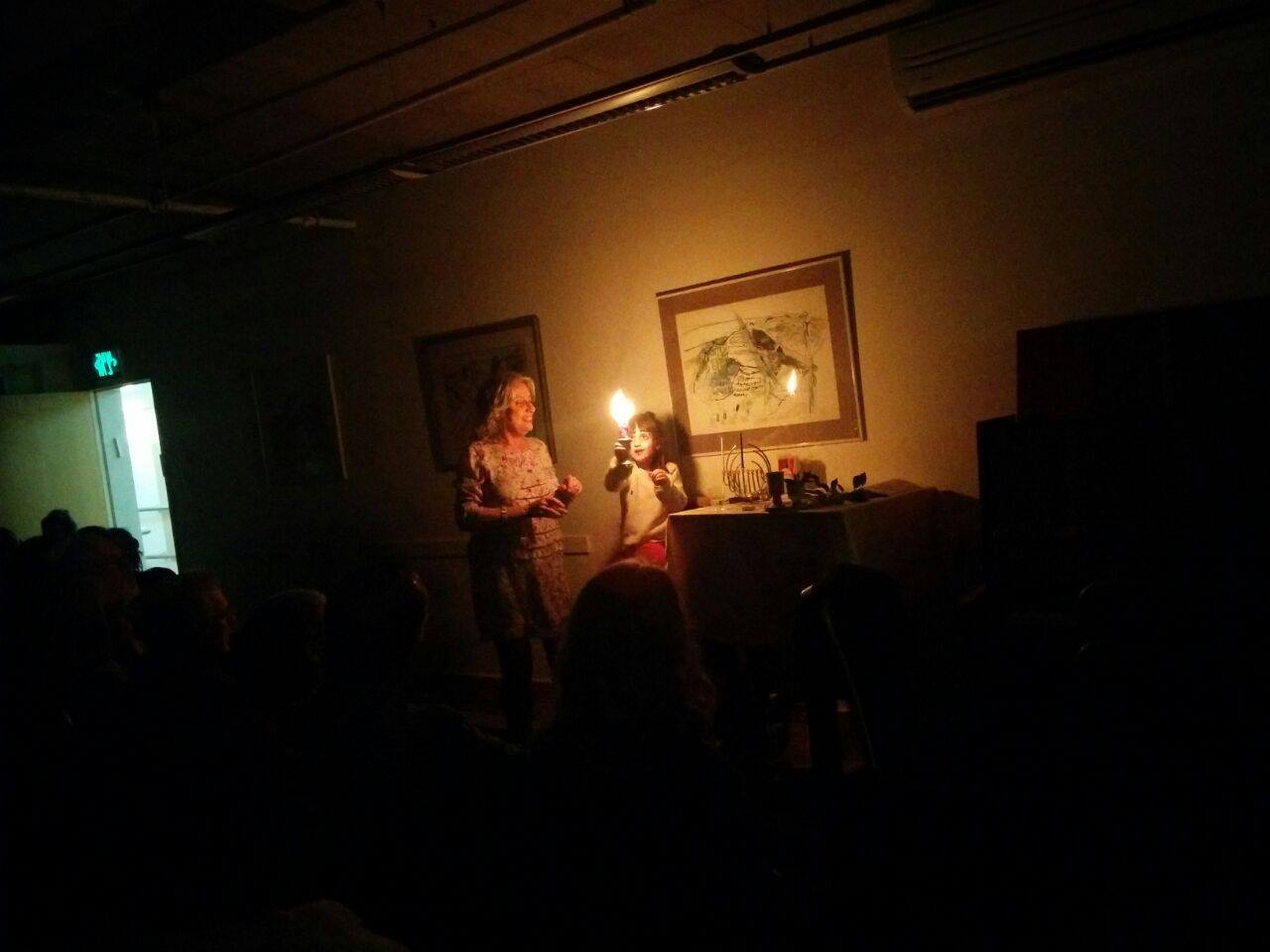 SPW: Among the topics you have investigated is the American Reform Jewish responses to HIV/AIDS. Can you tell us a little about what you learned from that research?
EBL: The Reform Jewish response to the HIV/AIDS epidemic is a fascinating issue which is useful in illuminating a difficult time from the last century, just as it key to this contemporary moment, when we face the COVID-19 pandemic.  
In 1985 the General Assembly of the Union of American Hebrew Congregations (UAHC) passed a historic resolution to abolish discrimination against those who are HIV-positive. The Reform movement thus became the only formal Jewish institution to advocate an open discussion regarding congregants living with HIV/AIDS, and presented a clear resistance to the AIDS-phobic Orthodox agenda, which declared the disease to be a punishment from God for the "sin" of homosexuality.
As my research shows, the evaluation of the traditional liturgy, the creation of new blessings, rabbis' sermons, social activities, and educational programs broke the stigma and established a Jewish affiliation and public recognition. While AIDS had been referred to as a social issue which should be treated by the government, these Reform religious, spiritual, and social activities demonstrated how the reactions to the epidemic expressed individual experiences and feelings. AIDS theology—which was created as an outcome of personal illness, mourning, and death—was characterized by the reformulation of popular mourning prayers and blessings for healing, creating new arguments for God's existence, the use of biblical metaphors, and the re-appropriation of traditional symbols.
My research was based on the textual analysis of prayer texts, rabbis' sermons, community services, activities, and educational programs. All of these sources were collected during my residency (thanks to the American Council for Judaism Fellowship) at the Jacob Rader Marcus Center of the American Jewish Archives (AJA) in the summer of 2018. While there, I found some folders which included these materials, and I viewed all of them as living evidence. I connected what I had read and known about the subject with how people actually wrote and documented their experiences and performances. I acquired a better understanding of how HIV/AIDS achieved a Jewish treatment and how rabbis' sermons were constructed as a political act of resistance against AIDS- and LGBT-phobia.    
SPW: Given your work on this topic, I want to ask you if you have any sociological observations to share about how Israeli Jews, Reform or otherwise, are responding to the current pandemic?
EBL: From the beginning of the COVID-19 outbreak, Jewish narrative, practice, and rhetoric have been an integral part of the public discourse. The former head of Israel's Ministry of Health, who is affiliated with the Jewish Orthodox Hassidic community, delivered such messages as, "Ani Hashem Rofecha"— "I am G‑d, your healer." The biblical verse was adapted to the current pandemic situation. 
Other elements of traditional Jewish discourse, including religious rituals and prayers, were also adapted to fight Coronavirus. Some Orthodox Rabbis conducted an "air-prayer", spoken while flying in a helicopter, and while blowing the shofar from above. The chief rabbis of Israel declared March 25th as a day of atonement, and the Western Wall's chief rabbi prohibited touching the Wall's stones to prevent the spread of the disease. Al-Aqsa Mosque and other sacred spaces in the Old City of Jerusalem were closed for visitors, and on-site prayers ceased. In addition, gatherings at synagogues in Israel were prohibited, one of the more controversial decisions.
The Reform congregation, as a liberal group, has continued to offer their services via Facebook and Zoom. That's allowed me to study emergency netnography (virtual fieldwork); my research examines virtual Reform Jewish ritual services transmitted by social media platforms and online video conference applications. The Reform Jewish community, which supports modern liberal theology, confirms the usage of such technological means on Shabbat and holiday ritual performances.
The transition to a "virtual community" necessitated by COVID-19 challenges the structure of rituals, changes the congregants' familiar religious gestures and behaviors, and reveals rabbis' creative liturgical responses. It also exposes diverse remote interactions by connecting communal and private spaces.
At the same time, virtual Israeli services in Reform congregations involve politics, since the Reform movement in Israel is an excluded community, which must fight for equal rights. Thus, even as the virtual solution might enable Jewish ritual, it might also be considered an obstacle, as it shows how community and services can be achieved without a physical space. My research will investigate this intersection of digital space with contemporary religious communities and political conflicts.