The Study of Science and Kabbalah in the Venetian Ghetto during the Renaissance
For the Public
Congregation Rodeph Shalom
615 N Broad Street
Philadelphia, PA 19123
The first ghetto on European soil was instituted in Venice (1516), where all Venetian Jews were secluded geographically from the Christian inhabitants of the city. Yet despite the limitations imposed by the Venetian authorities, the ghetto provided Jews with a clearly defined space within Christian society, and the enclosure paradoxically opened up new opportunities for cultural dialogue and interaction with the Christian majority. Dr. Lelli will introduce the work of two Jewish scholars who operated within this newly sequestered neighborhood: Abraham De Balmes and Elijah Menahem Halfan. In particular, he will focus on the distinct approaches of these two scholars to the study of science and Kabbalah, two fields that exemplify the intellectual relations between Jewish and Christian scholars during the Italian Renaissance.
Featuring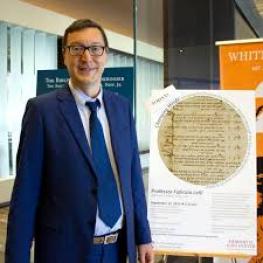 Fabrizio Lelli
Università del Salento (Lecce)
Fabrizio Lelli is Associate Professor of Hebrew Language and Literature at the University of  Salento (Lecce, Italy). His research focuses mainly on the philosophical and mystical literature of late Medieval and Early Modern Italian Jewish authors and on the intellectual relations between Jewish and Christian scholars in the Italian Renaissance.
Read more