Jewish Thought and Scientific Discovery in Early Modern Europe: Twenty-Five Years Later
Twenty-First Annual Joseph and Rebecca Meyerhoff Lecture
For the Public
Thursday, October 26, 2017
Class of 1978 Orrery Pavilion
Kislak Center, 6th Floor
Van Pelt Library
3420 Walnut Street 
Philadelphia, PA 19104
In this lecture, Ruderman will revisit his seminal text Jewish Thought and Scientific Discovery in Early Modern Europe (Yale University Press). Asking new questions and suggesting new applications for the history of science, Ruderman will expand the scope of his monograph's pertinence and chart the field's growth since he began work on this project nearly 25 years ago.
Featuring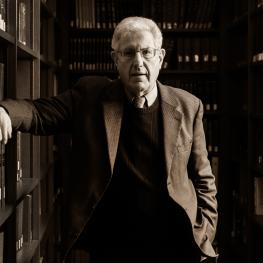 David B. Ruderman
University of Pennsylvania
David B. Ruderman is the Ella Darivoff Director Emeritus of the Katz Center and the Joseph Meyerhoff Professor Emeritus of Modern Jewish History in the Department of History at the University of Pennsylvania.
Read more
Cosponsors
Jewish Studies Program, Department of History