Defining the Karaites: Between Self Perception and Scholarly Evaluation
Tenth Annual Joseph and Rebecca Meyerhoff Lecture
For the Public
Wednesday, January 24, 2007
College Hall, Room 209
Philadelphia, PA 19104
Many scholars identify the Karaites as the "oldest Jewish sect still existing." However, this description does not necessarily reflect the Karaites' own understanding of their position within the wider Jewish community. In this program, Professor Ben-Shammai will read and analyze a Karaite document from 12th century Byzantium to show how Karaite self perception compares with widely accepted notions in modern scholarship about their relationship with Judaism at large. Please join us for this unique opportunity to engage in the study of a fascinating text with one of the world's most prominent scholars of Karaite literature and culture.
Featuring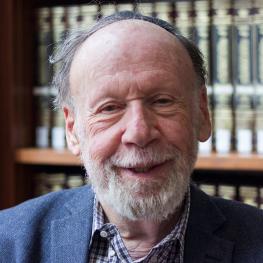 Haggai Ben-Shammai
Hebrew University of Jerusalem
Haggai Ben-Shammai is one of the world's leading scholars of Karaism and Judeo-Arabic culture. He has published critical editions, commentaries, and articles on works by the most important Judeo-Arabic and Karaite thinkers including Saadia Gaon, Judah ha-Levi, Yefet ben Eli and Maimonides and has trained a generation of scholars working in the field of Judeao-Arabic studies. Professor Ben-Shammai serves as director of the Center for Judaeo-Arabic Studies and the Karaite Project at the Ben Zvi Institute. He is also co-director of the Center for Biblical and Judaic Studies at the State University in St. Petersburg, Russia. He has been a visiting scholar at Harvard University, Yeshiva University, and Clare Hall, Cambridge University, where he is a life member. Professor Ben-Shammai is currently the Ellie and Herbert D. Katz Distinguished Fellow at Penn's Center for Advanced Judaic Studies.
Read more
Cosponsors
Department of History, Middle East Center, Jewish Studies Program