Lecture: A Nation on the Couch—The Politics of Trauma in Contemporary Israel
For the Public
Germantown Jewish Centre
400 W. Ellet St 
Philadelphia, PA 19119
Based on fieldwork Dr. Keren Friedman-Peleg has conducted at two leading NGOs in Israel (NATAL-The Israel Center for Victims of Terror and War, and the ITC-Israel Trauma Coalition), this lecture sheds light on how in the last two decades, a specific psychological concept–trauma–has been adopted by mental health experts, local leaders, politicians and residents, as main tools for shaping the meaning of being Jewish-Israeli today, under the circumstances of continuous, unresolved violent conflict. Focusing on professional interactions of clinical psychologists and psychiatrists with patients from diverse social groups (Israeli soldiers, Ultra-orthodox Jews, and Jews and Bedouin living in the border region between Israel and Gaza) the lecture will offers insights on how clinical questions of diagnosis, treatment and prevention of traumatic symptoms have come to intersect with socio-political questions of group identity. There will be time for questions and discussion following the presentation.
Organized by the Germantown Jewish Centre; please visit their website for additional information.
For more information about community partnerships or to invite a speaker, see our guidelines.
Featuring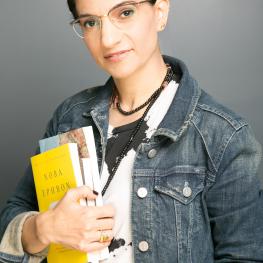 Keren Friedman-Peleg
The College of Management-Academic Studies
Keren Friedman-Peleg is a senior lecturer and dean of students at the College of Management Academic Studies. A medical and psychological anthropologist, her research combines clinical questions of security-related trauma diagnosis, treatment, and prevention with socio-political questions of national belonging and inequality. At the Katz Center, she will focus on the national home and the private home in the context of threatened security.
Friedman-Peleg received her PhD from Tel-Aviv University. She was previously a visiting scholar at the Katz Center and a visiting assistant professor at UC Berkeley's department of anthropology and Institute for Jewish Law and Israel Studies
Read more