Changing Minds: Geographic Discoveries and New Worlds through the Eyes of a Renaissance Jewish Scholar
For the Public
Tuesday, September 10, 2019
Class of 1978 Orrery Pavilion
Van Pelt-Dietrich Library Center
3420 Walnut St
Philadelphia, PA 19104
Professor Lelli will introduce the fascinating manuscript of Abraham Abraham ben Mordecai Farissol's 16th c geographical treatise, Iggeret orhot ʻolam (LJS 499; 1524) the first modern Hebrew work on geography with a special interest in the Jewish dispersion, and also the first Hebrew writing that mentions the New World. 
Featuring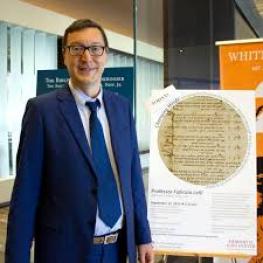 Fabrizio Lelli
Università del Salento (Lecce)
Fabrizio Lelli is Associate Professor of Hebrew Language and Literature at the University of  Salento (Lecce, Italy). His research focuses mainly on the philosophical and mystical literature of late Medieval and Early Modern Italian Jewish authors and on the intellectual relations between Jewish and Christian scholars in the Italian Renaissance.
Read more
Cosponsors
This lecture is sponsored by the Jewish Studies Program at the University of Pennsylvania.