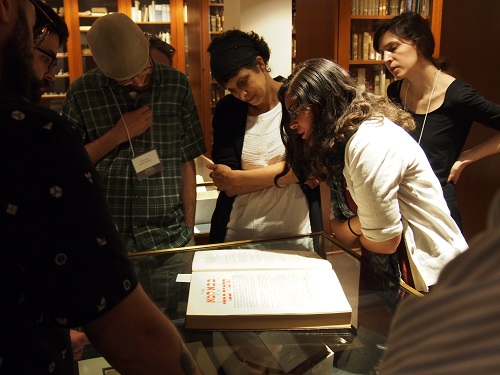 The Katz Center and the Mandel School for Advanced Studies in the Humanities at the Hebrew University of Jerusalem offer an annual week-long intensive course for graduate students. This collaborative program takes place in Philadelphia and Jerusalem in alternate years, under the joint directorship of Steven Weitzman and Elisheva Baumgarten.
Each year, the course addresses a new special topic in Jewish studies, bringing together an international group of students and faculty with special interests in that topic. Participating students are exposed to innovative scholarship and diverse teaching styles, broadening their intellectual perspectives and connecting them kindred scholars, potential mentors, and peers. The week also includes sessions devoted to professional development and directed excursions to local historic and cultural sites.
The 2019 school will take place in Jerusalem, June 30–July 4, and will be focused on Secrets and Lies: Truth, Evidence, and Deception in Jewish History and Culture.
With standards of veracity being debated around the world today, the 2019 Mandel School/Katz Center Summer School investigates hidden and concealed truths in Jewish history and culture. Over a week of intensive learning with a cohort of leading scholars from different subfields and disciplines, graduate students will explore the role of secrecy, esotericism and deception in Jewish sources, the challenge of getting at hidden historical truths, the closeting of social identities, and other topics that involve seeking out or masking the truth.
Directors:
Elisheva Baumgarten, Hebrew University of Jerusalem
Faculty:
Jonathan Ben-Dov, University of Haifa
Renana Keydar, Hebrew University of Jerusalem
Zvi Lederman, Tel Beth Shemesh Expedition
Guy Miron, Open University of Israel
Limor Shifman, Hebrew University of Jerusalem
Steven Weitzman, University of Pennsylvania
Miriam Goldstein, Hebrew University of Jerusalem
Daniel Langton, University of Manchester
Kathryn Lofton, Yale University
Vered Noam, Tel Aviv University
Anna Shternshis, University of Toronto
Graduate students at any institution worldwide, in any subfield of Jewish studies, past or present, are eligible to apply. The program is especially interested in drawing students at an advanced stage of their graduate careers, along with earlier-stage graduate students whose research interests align closely with the stated theme.The cost of tuition, lodging, excursions, and most meals is covered by the program. Fellowships to cover transportation are available for students who do not have applicable funding from their home institutions.
Applications are due by March 1. Apply online now at https://en.mandelschool.huji.ac.il/summerschool%20.
Past programs include:
2018: Out of this World: The Supernatural in Jewish History and Culture
2017: Personal/Interpersonal: I, We, and You in Jewish History and Culture
2016: Shaking Foundations
2015: Jews on the Move: Translocation, Transmissions, and Transformations in Jewish Culture
The Katz Center is able to host the Summer School every other year thanks to the generous support of Dr. Garry Rayant and Dr. Kathy Fields-Rayant.