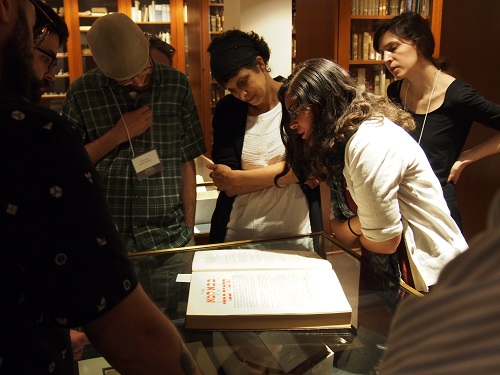 The Katz Center and the Mandel School for Advanced Studies in the Humanities at the Hebrew University of Jerusalem offer an annual week-long intensive course for graduate students. This collaborative program takes place in Philadelphia and Jerusalem in alternate years, under the joint directorship of Steven Weitzman and Elisheva Baumgarten.
The 2020 Advanced Summer School will take place in Philadelphia, June 28–July 2, and will be focused on
Troublemakers: Rebels, Radicals, & Rascals in Jewish History and Culture
The 2020 program will explore the role of Jews in the history of subversion and resistance. Guided by leading scholars of Jewish studies from around the world, students will have the opportunity to learn about the role of Jews in heretical and revolutionary movements, their participation in crime and other illicit activities, and their role as intellectual and cultural agitators and agents of change. 
The program will be interdisciplinary and will extend into all periods of Jewish history. It is also meant to promote a sense of intellectual community with scholars and fellow graduate students from around the world. Graduate students at any institution worldwide, in any subfield of Jewish studies, past or present, are eligible to apply. Fellowships are available for students who do not have applicable funding from their home institutions.
Applications are due by February 27, 2020. Apply online now.
Past programs include:
2019: Secrets and Lies: Truth, Evidence, and Deception in Jewish History and Culture
2018: Out of this World: The Supernatural in Jewish History and Culture
2017: Personal/Interpersonal: I, We, and You in Jewish History and Culture
2016: Shaking Foundations
2015: Jews on the Move: Translocation, Transmissions, and Transformations in Jewish Culture
The Katz Center is able to host the Summer School every other year thanks to the generous support of Dr. Garry Rayant and Dr. Kathy Fields-Rayant.